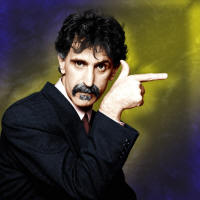 The purpose of this site is to provide a little help to those that are looking for written material about Frank Zappa.
afka (at) afka.net
Zappa Books
New Entries.
2 March. Japanese Guitar Magazine, October 1993. "Can't Afford No Shoes", transcribed by Maruyama Masamichi.

27 February. British Nuggets, April/May 1977. Includes "an exclusive transcript of an American radio programme in which Francis Vincent Zappa discourses about the CIA, youth, drugs and his idea of a woman". Page thoroughly updated.

26 February. Finnish monthly Musa, November 1973. Includes the fourth and final part of articles about Frank Zappa. The missing 3rd part is also coming soon.

25 February. German rock magazine Eclipsed, September 2104. Contained interview with famous photographer Baron Wolman.

24 February. One of my all time favorite magazine covers – Rockin'f July 1980. The page is totally updated.

24 February. Two Frank Zappa interviews printed in Japan, tentatively placed some years ago to Scrapbook section, found their proper place. The Music Life issues March 1976 and June 1982.

23 February. Japanese guitarists magazine Player, December 1990. Includes 13-page Zappa special. Player was founded in 1968. Still alive and living well. Another great 23-page Zappa special was published in January 1995.

22 February. "The 100 Greatest Prog Albums" was the cover story of Prog magazine #48, August 2014. Hot Rats was #74.

22 February. Something important. Circus magazine #141, issued in October 12, 1976, had an interview with Frank Zappa ("Zappa's Zoot Allures!: DiscReet Charm From Un-Bourgeois Z"), where Frank is presenting Zoot Allures test pressing as a double-LP. Detailed descriptions of songs are included.

19 December. Japanese Keyboard magazine, December 1994. Includes 8-page article on Zappa's keyboard players, translated from US Keyboard magazine.

18 December. Another Pop, February 1971, with a full page FZ photo.

17 December. Swiss monthly magazine Pop, December 1970, had a full page MOI photo and German concert dates.

16 February. Probably the most important book on Frank Zappa published in 2014 – Zappa I Norge. This big book in LP format contains over 300 previously unpublished photos of Frank Zappa's nine concerts in Norway. Two editions, printed in November and December 2014.

15 February. Portuguese weekly Se7e, January 1992. Two-page article "Frank Zappa: Mr. President"

14 February. Frank Zappa. Rock come prassi compositiva (Rock as compositional practice) is a new book written by musicologist Giordano Montecchi. This book is in Italian and was published in November 2014.

7 February. Good old Crawdaddy, May 1971, containing two articles, one by Miles ("Alchemy, Hagiography & Hieroglyphics vs. The Teenage American Archetypal Theme") and another one by Duck Lupoff ("Mothers Day With The Mothers").

2 February. German zine Rockmusik, July 1979, containing review of two Zappa concerts and long article about (very much Zappa influenced) Czechoslovakian underground.

1 February. Swiss Good News, June 1980, containing article in German and French introducing Frank Zappa before two 1980 gigs in Switzerland – June 21, Patinoire des Vernets, Geneva and June 22, Hallenstadion, Zurich.

24 January. Filling the gaps. "Frank And Moon Zappa Go Am" – article on Frank and Moon based on interview with them. Printed in Creem, November 1982.

22 January. Escapade was a high circulation competitor of Playboy that featured major authors like Nelson Algren and Ray Bradbury. November 1967 issue has two articles of interest. "Pop Music: Two Edges Of The Outer Limits" is about the Beatles and MOI. "The Mothers Of Invention" includes three pages of nice pictures of the Mothers at The Garrick Theater.

21 January. "What I Am, See, Is I'm an Appliance – an Ugly Reminder" – article published in Datebook, June 1968.

19 January. Filling the gaps. Very enjoyable reading by F.P. Tullius – "Zubin And The Mothers". Printed in Playboy, April 1971.

18 January. Another interview from the Digger, June 1973, – "Here, anybody want to do it with this giraffe?"

17 January. "Zappa Talks Movies" – an interview, made in London late 1972 and published in Australian Digger, June 1973.

13 January. French Rock & Folk, February 1971, containing two articles on Zappa.

3 January. In Uncut, April 2010, John Cale presented next to his favorite albums also "The Record That Made Me Hate Frank Zappa".

2 January. Turkish 1992 book Rock Dünyasında Kenardaki Milyonerler (Millionaires In The Rock World), containing a chapter on Frank Zappa. First Zappa-related book in Turkish on this site.

2015

25 December. Article "Censorship And Zappa", based on an interview, printed in The Note, March 1989.

23 December. Music Maker, monthly color supplement of popular Melody Maker, printed in October 1967 one of the first interviews with Frank Zappa in British magazines.

22 December. One of the earliest articles on the MOI in British press – "The 'Unbelievably Awful' Mothers of Invention". Good reading, printed in Beat Instrumental, December 1966.

19 December. Capitol weekly magazine from April, 1984, with a cover story about Frank Zappa. He was coming to Columbus to have his famous speech at the annual conference of university composers.

11 December. Uncut, December 2014. Article on Captain Beefheart album reissues including interview with Art Tripp.

10 December. 200 Motels Press Kit. Great artifact. Including seven pages of information, four pages questions and answers and seven pages script. Part of this kit was also published in Circular magazine.

9 December. Guitar Player, December 2014. Contains article "Shut Up & Look at this Guitar" plus reprint of "Putting Some Garlic In Your Playing".

5 December. The Yellow Shark Press Kit.

2 December. Danish weekly youth magazine Børge, September 1967. One page announcing new LP Absolutely Free.

1 December. Israeli cinema weekly Olam Hakolnoa (עולם הקולנוע) from September 1975.

30 November. In October 2014 the long awaited Spanish translation of The Real Frank Zappa Book was published. La verdadera historia de Frank Zappa is very nicely designed hardcover book. Spanish translation by Manuel de la Fuente & Vicente Forés.

28 November. Dutch record collectors' magazine Platenblad, May 1995. Nice cover featuring We Are In It For The Money. Unfortunately not much Zappa content inside. Only a two page article about Beatle covers where FZ and WOIIFTM are mentioned.

28 November. German recent Gitarre & Bass, November 2014, contains a lot of information on Frank Zappa. Five-page overview article "Bandleader, Guitarrist, Legende" and three-page article and transcription of song "Dirty Love."

26 November. Happening Orange County, April 1983. Part II of the three part interview.

23 November. Turkish weekly Rock Kazani, October 1994. One page devoted to FZ.

21 November. Another Foxtrot, November 1976, containing interview "One Too Many Motels With Frank Zappa" and Zoot Allures review.

20 November. Foxtrot, free music paper from Buffalo State College, September 1976. Long article about rock humor, including chapters on The Fugs, Mothers Of Invention, Flo & Eddie, etc.

15 November. Another 1976 concert review – October 14, Tampa, Florida. This review is interesting because there is no recording known of this event. Music Media, December 1976.

3 November. Swedish only once in a year (!) published magazine Popen idag, 1976/1977.

2 November. Spanish daily newspaper La Razón, October 26, 2014, on recently published Spanish translation of The Real Frank Zappa Book.

1 November. Japanese edition of Esquire, March 1993. Six-page article about The Yellow Shark concerts.

27 September. Japanese music quarterly Marquee Moon published a 12-page article on Zappa and MOI in issues ## 9 and 10 in 1982.

26 September. Very cool Danish underground paper Love from August 1967, containing interview and some interesting ads.

24 October. Japanese subculture magazine Takarajima, June 1979, 6-page article on Zappa.

21 October. Spanish weekly supplement La Cartelera announced in October 10, that hopefully next Monday Spanish edition of The Real Frank Zappa Book will be on sale.

19 October. Japanese monthly Music Magazine, January 1994. Zappa obituary.

11 October. The Guitar Player Book (1983), contains 9-page article and interview with Frank Zappa.

10 October. We Are The Other People – 25 anniversary book of the Zappanale festival.

8 October. Over a long period of time, we updated the German fanzine Arf Dossier page, adding issues from last years. One question - issues ##64, 66 and 68 are still missing. If you have to sell them, please contact afka (at) afka.net

8 October. Scott Parker has written another book on Frank Zappa (7th in a row, if I'm right!) called A Freak Out In The Making. This book is available since August 2014 and in two formats, paperback or Kindle e-book.

5 October. Spanish edition of Argentinian progressive rock magazine Mellotron, September 2010. Contains 8-page article on FZ.

4 October. Finnish Suosikki, September 1973. Includes nice article about Zappa, "one of the most important cultural geniuses of the XX century next to Salvador Dali, Pablo Picasso and Gustav Mahler".

26 September. Norwegian music paper Puls, June 1994. Very nice Zappa special issue containing a list of articles.

25 September. American magazine for men Cavalier, October 1967. Five-page picture story "Claudia [Cardinale] On The California Pop Circuit". These pictures were first printed in July 1967 in Italian magazine Epoca. Unfortunately Cavalier published only a small selection of these nice pictures.

24 September. Cavalier, December 1966. Two-page Freak Out picture story. "It was Freak Out, Son of GUAMBO (the Great Underground Artists' Masked Ball and Orgy) and of necessety the Mothers of Invention were on hand with their big band electronic sound, and The Factory, and others."

23 September. Some examples of Frank Zappa's music scores distributed by Munchkin Music. Includes arrangements for wind quintet, scores for piano, drum set etc.

22 September. Concert program - October 26, 1980, Stony Brook, NY.

21 September. Arf! is a collection of essays published in Italy in December 2003 to mark the 10th anniversary of Frank Zappa's death. This book is some kind of precursor of Academy Zappa, which was compiled by Ben Watson and printed in 2005.

20 September. The Big Note, compiled, designed and written by Michael Brenna, was back in the 80s one of the main Zappa sources and was referenced many times in other Zappa-related publications. This book was issued by Norwegian Frank Zappa Society in 1985.

8 September. Californian free bimonthly paper "for the active musician" – M.I., November/December 1979. Contains very interesting Frank Zappa interview "Pop Music's Central Scrutinizer" written by Dan Forte. The list of good interviews seems to be never ending.

23 August. Italian quarterly of "other music" Musiche, Spring 1992. Seems to be a very interesting issue including fine six-page article on Frank Zappa by Beppe Colli (with many references to good Zappa sources) and nice cover featuring Robert Wyatt.

22 August. Russian women's magazine Karavan Istoriy, March 2014 including 14-page article on Zappa with a lot of great pictures!

21 August. United Mutations membership certificate added to Scrapbook.

19. August. Zappa Radio is not free anymore (now Live365 VIP only) and we changed to Zappateers Radio player.

16 August. Musa, September 1973. Part 2 of a four-part series of articles about Frank Zappa.

10 August. Finally Cal Schenkel art exhibition in Tartu is posted.

7 August. The Absolute Sound, Late Winter 1994. "A Fond Farewell to Frank Zappa" – interesting read to see what "high end people" think about Frank Zappa.

3 August. Musa, March 1978. Hammersmith Odeon concert review.