Guitar World
Guitar World
is a musical magazine. The first issue was debuted in July 1980; Johnny Winter appeared on the cover. (
wikipedia
)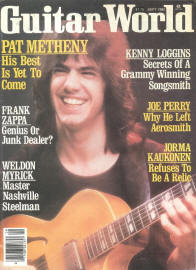 1980 September
Vol. 1 No. 3
On The Record - Frank Zappa
Interview by John Stix, pp 9-10
---
F.Z. Let's look at it from the standpoint of logic. There is a way unless you're dead, and even they there is still a question, that you're not going to offend somebody. There's always someone that's going to get offended over something that somebody does.
That's human nature. Just sitting still you can offend people, so why worry about it? You can't win. I was never meant to be a man for all seasons. Am I here to entertain everybody? No, just the ones who like what I do. The ones who don't like it, like somebody else. (read more)
Source: zappateers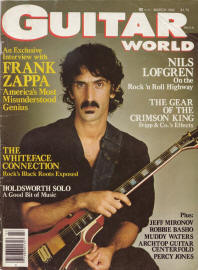 Vol. 3 No. 2
Frank Zappa: The Interview
By John Swenson, pp 34-35, 37-38, 40, 45-46, 48-49, 72-73
---

FZ: By the way, I really enjoyed the review that you did of the albums in Guitar World.
GW: Oh, thanks. I really loved the records.
FZ: I am glad I did them. I mean, I have been waiting to do it for a long time. And a lot of people thought I was crazy for spending the time to do it. But, right now that group of albums is selling better than You are What You Is and Tinsel Town Rebellion. We went into a profit position after two weeks on the market. (read more)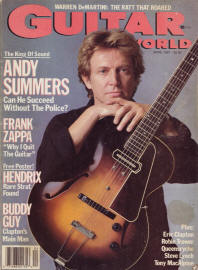 Vol. 8 No. 3
Zappa's Inferno
By Noë Goldwasser, pp 64-70, 114-115

Jazz From Hell (review)
By Peter Mengaziol, p 105
---
Our purpose was to plan the Guitar World According To Frank Zappa tape – a 34-minute collection of rare Zappa solos on a special GW audio cassette which this magazine will make available in the spring – and to talk about guitar stuff. (read more)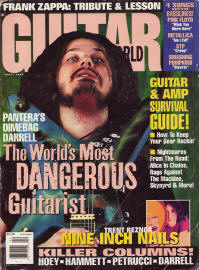 Vol. 15 No. 4
Perfectly Frank
The life and times of Frank Zappa – composer, satirist and towering giant of the electric guitar.
By Alan di Perna, pp 32-33, 35, 37-38, 40, 43-44, 47

Shut Up 'N Play Yer Guitar: A Tribute To A Guitar Genius
An in-depth analysis of the improvisatory inventions of Frank Zappa, one of the most innovative rock guitarists to ever lay hands on the instrument.
By Andy Aledort, 5 pp 51-52, 54, 56, 58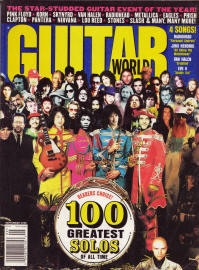 1998 September
Vol. 18 No. 9
100 Greatest Solos
#60 "Zoot Allures", p 104
+ poster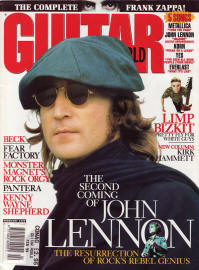 1999 February
Vol. 19 No. 2
Zappa's Universe
On the fifth anniversary of Zappa's death, his former guitarists Steve Vai and Mike Keneally pay tribute to their late friend and boss.
Interviews by Andy Aledort, 12 pp 68-72, 74, 92, 94, 96, 98, 101-102
Zappa's Universe – Part I
Zappa's Universe – Part II
Zappa's Universe – Part III

Perfectly Frank
The life and times of Frank Zappa – composer, satirist and towering giant of the electric guitar.
By Alan di Perna, pp 70-72, 74, 88, 90
Reprint of 1994 April article, with different photos.

The End Page
By J.D. Considine, p 214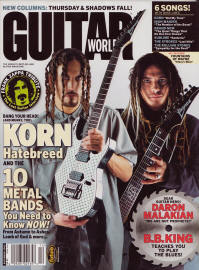 2003 December
Vol. 23 No. 12
Dynamo Frank
In a special 10th anniversary tribute, Guitar World presents the one and only Grand Wazoo in his own words.
Interview by Alan di Perna, pp 78-80, 82, 84, 104, 106, 108, 156-157

In-A-Gadda-Stravinsky
A selected discography of Frank Zappa's best work
By Alan di Perna, p 80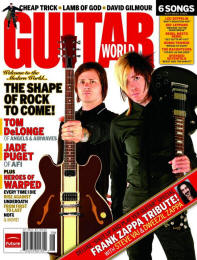 Vol. 27 No. 8
Let's Be Frank
On the eve of their tour honoring Frank Zappa's music, Dweezil Zappa and guitar ace Steve Vai trade memories of the man who gave them their start
By Alan di Perna, pp 46-48, 50, 90, 92, 94, 96, 98, 100, 102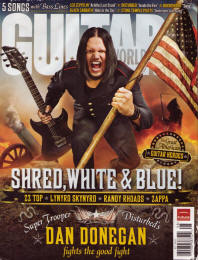 Vol. 29 No. 8
Frank Zappa's Rare Gear
When it comes to faithfully recreating Frank Zappa's music and tones, his son Dweezil heads to the original source: dad's collection of priceless musical equipment
By Alan di Perna, pp 82-86, 88, 90

The secret weapons behind Dweezil's killer tones
By Alan di Perna, p 84

In the studio with Dweezil Zappa (video 16:48)
Dweezil Zappa unveils his new custom live guitar and shows off some Frank Zappa's classic guitars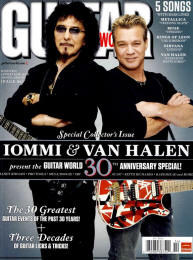 2009 December
Vol. 30 No. 14 Anniversary issue
The Big Three-Oh!
pp 60-82, including
December 4, 1993 - Frank Zappa Dies of Cancer
By ?, p 72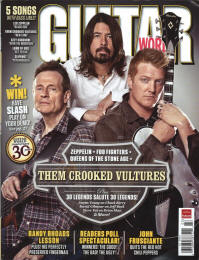 Vol. 31 No. 3
Dad To The Bone
By Dweezil Zappa, 1 p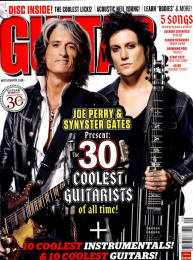 2010 September
Vol. 31 No. 9
The 30 Coolest Guitarists Of All Time
By Alan Di Perna, Chris Gill, Richard Bienstock