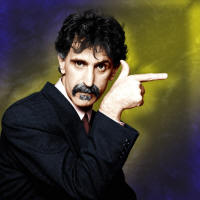 The purpose of this site is to provide a little help to those that are looking for written material about Frank Zappa.
afka (at) afka.net
Zappa Books
New Entries.
23 December. Music Maker, monthly color supplement of popular Melody Maker, printed in October 1967 one of the first interviews with Frank Zappa in British magazines.

22 December. One of the earliest articles on the MOI in British press - "The 'Unbelievably Awful' Mothers of Invention". Good reading, printed in Beat Instrumental, December 1966.

19 December. Capitol weekly magazine from April, 1984, with a cover story about Frank Zappa. He was coming to Columbus to have his famous speech at the annual conference of university composers.

11 December. Uncut, December 2014. Article on Captain Beefheart album reissues including interview with Art Tripp.

10 December. 200 Motels Press Kit. Great artifact. Including seven pages of information, four pages questions and answers and seven pages script. Part of this kit was also published in Circular magazine.

9 December. Guitar Player, December 2014. Contains article "Shut Up & Look at this Guitar" plus reprint of "Putting Some Garlic In Your Playing".

5 December. The Yellow Shark Press Kit.

2 December. Danish weekly youth magazine Børge, September 1967. One page announcing new LP Absolutely Free.

1 December. Israeli cinema weekly Olam Hakolnoa (עולם הקולנוע) from September 1975.

30 November. In October 2014 the long awaited Spanish translation of The Real Frank Zappa Book was published. La verdadera historia de Frank Zappa is very nicely designed hardcover book. Spanish translation by Manuel de la Fuente & Vicente Forés.

28 November. Dutch record collectors' magazine Platenblad, May 1995. Nice cover featuring We Are In It For The Money. Unfortunately not much Zappa content inside. Only a two page article about Beatle covers where FZ and WOIIFTM are mentioned.

28 November. German recent Gitarre & Bass, November 2014, contains a lot of information on Frank Zappa. Five-page overview article "Bandleader, Guitarrist, Legende" and three-page article and transcription of song "Dirty Love."

26 November. Happening Orange County, April 1983. Part II of the three part interview.

23 November. Turkish weekly Rock Kazani, October 1994. One page devoted to FZ.

21 November. Another Foxtrot, November 1976, containing interview "One Too Many Motels With Frank Zappa" and Zoot Allures review.

20 November. Foxtrot, free music paper from Buffalo State College, September 1976. Long article about rock humor, including chapters on The Fugs, Mothers Of Invention, Flo & Eddie, etc.

15 November. Another 1976 concert review - October 14, Tampa, Florida. This review is interesting because there is no recording known of this event. Music Media, December 1976.

3 November. Swedish only once in a year (!) published magazine Popen idag, 1976/1977.

2 November. Spanish daily newspaper La Razón, October 26, 2014, on recently published Spanish translation of The Real Frank Zappa Book.

1 November. Japanese edition of Esquire, March 1993. Six-page article about The Yellow Shark concerts.

27 September. Japanese music quarterly Marquee Moon published a 12-page article on Zappa and MOI in issues ## 9 and 10 in 1982.

26 September. Very cool Danish underground paper Love from August 1967, containing interview and some interesting ads.

24 October. Japanese subculture magazine Takarajima, June 1979, 6-page article on Zappa.

21 October. Spanish weekly supplement La Cartelera announced in October 10, that hopefully next Monday Spanish edition of The Real Frank Zappa Book will be on sale.

19 October. Japanese monthly Music Magazine, January 1994. Zappa obituary.

11 October. The Guitar Player Book (1983), contains 9-page article and interview with Frank Zappa.

10 October. We Are The Other People – 25 anniversary book of the Zappanale festival.

8 October. Over a long period of time, we updated the German fanzine Arf Dossier page, adding issues from last years. One question - issues ##64, 66 and 68 are still missing. If you have to sell them, please contact afka (at) afka.net

8 October. Scott Parker has written another book on Frank Zappa (7th in a row, if I'm right!) called A Freak Out In The Making. This book is available since August 2014 and in two formats, paperback or Kindle e-book.

5 October. Spanish edition of Argentinian progressive rock magazine Mellotron, September 2010. Contains 8-page article on FZ.

4 October. Finnish Suosikki, September 1973. Includes nice article about Zappa, "one of the most important cultural geniuses of the XX century next to Salvador Dali, Pablo Picasso and Gustav Mahler".

26 September. Norwegian music paper Puls, June 1994. Very nice Zappa special issue containing a list of articles.

25 September. American magazine for men Cavalier, October 1967. Five-page picture story "Claudia [Cardinale] On The California Pop Circuit". These pictures were first printed in July 1967 in Italian magazine Epoca. Unfortunately Cavalier published only a small selection of these nice pictures.

24 September. Cavalier, December 1966. Two-page Freak Out picture story. "It was Freak Out, Son of GUAMBO (the Great Underground Artists' Masked Ball and Orgy) and of necessety the Mothers of Invention were on hand with their big band electronic sound, and The Factory, and others."

23 September. Some examples of Frank Zappa's music scores distributed by Munchkin Music. Includes arrangements for wind quintet, scores for piano, drum set etc.

22 September. Concert program - October 26, 1980, Stony Brook, NY.

21 September. Arf! is a collection of essays published in Italy in December 2003 to mark the 10th anniversary of Frank Zappa's death. This book is some kind of precursor of Academy Zappa, which was compiled by Ben Watson and printed in 2005.

20 September. The Big Note, compiled, designed and written by Michael Brenna, was back in the 80s one of the main Zappa sources and was referenced many times in other Zappa-related publications. This book was issued by Norwegian Frank Zappa Society in 1985.

8 September. Californian free bimonthly paper "for the active musician" – M.I., November/December 1979. Contains very interesting Frank Zappa interview "Pop Music's Central Scrutinizer" written by Dan Forte. The list of good interviews seems to be never ending.

23 August. Italian quarterly of "other music" Musiche, Spring 1992. Seems to be a very interesting issue including fine six-page article on Frank Zappa by Beppe Colli (with many references to good Zappa sources) and nice cover featuring Robert Wyatt.

22 August. Russian women's magazine Karavan Istoriy, March 2014 including 14-page article on Zappa with a lot of great pictures!

21 August. United Mutations membership certificate added to Scrapbook.

19. August. Zappa Radio is not free anymore (now Live365 VIP only) and we changed to Zappateers Radio player.

16 August. Musa, September 1973. Part 2 of a four-part series of articles about Frank Zappa.

10 August. Finally Cal Schenkel art exhibition in Tartu is posted.

7 August. The Absolute Sound, Late Winter 1994. "A Fond Farewell to Frank Zappa" – interesting read to see what "high end people" think about Frank Zappa.

3 August. Musa, March 1978. Hammersmith Odeon concert review.

29 July. Finnish rock monthly Musa, April 1976. Contains article "Dr. Frank & Mr. Napoleon" about Zappa's concert in Helsinki, February 26, with some funny pictures of Frank, Napoleon and Roy.

28 July. Classic Rock, December 2011. Photographer Baron Wolman tells how the famous picture of Zappa on bulldozer was made.

26 July. German glossy magazine for guitarists Grand Guitars, July/August 2014, has article featuring Phoenix Guitars ZG – a remake of Frank Zappa's Gibson "Phoenix" SG.

25 July. German heavy metal fanzine Escape, which last issue #9 (1988) contained an article and album review on Zappa.

22 July. Student-run newspaper from Providence College, The Cowl, April 30, 1975. Includes the April 26 concert review and exclusive interview. This concert was part of the short "Bongo Fury" tour, when the band members were Captain Beefheart, Tom Fowler, Terry Bozzio, Napoleon Murphy Brock, George Duke, Denny Walley and Bruce Fowler.

20 July. Circular promo magazine, August 23, 1971. Contains two articles of interest. "18 Sides of The Mothers" includes some news – nine volume Mothers' anthology planned, Tom Wilson's new project called Grandmothers, 200 Motels is ready. "Notorious Chicken Killers" is how The Mothers' support band Alice Cooper became chicken killers.

16 July. Rip It Up from New Zealand, December 1979 / January 1980 issue. Contains review on Orchestral Favorites and Joe's Garage Act I.

15 July. Mojo, August 1995, presented "The 100 Greatest Albums Ever Made", including some albums you know. The cover featured among other musicians Frank Zappa, Captain Beefheart and ... Zoot Horn Rollo!

13 July. Next issue of Revelation, #5, containing part II of the overview article.

12 July. German fanzine of extraordinary music Revelation, issue #4, 1992. Part I of the overview article on Frank Zappa.

11 July. Yugoslavian monthly Džuboks printed in August 1979 interview with Frank Zappa, which was earlier published in German Musikexpress.

10 July. Mojo, July 1995 issue contains review of six re-released by Ryko albums – We're Only In It For The Money, Lumpy Gravy, Overnite Sensation, Apostrophe ('), London Symphony Orchestra Vol I & II, Does Humor Belong in Music? Plus an illustration by Knopov.

6 July. Portuguese weekly Se7e, February 1985, with FZ on the cover and two articles on FZ inside.

5 July. Frank Zappa obituary in German Gitarre & Bass, February 1994.

4 July. Mojo, January 2003 issue, contains article on Zappa's log cabin at 2401 Laurel Canyon Boulevard.

1 July. New Musical Express, February 24, 1979 - review of Hammersmith Odeon concert.

30 June. British Mojo, March 1996, containing full page review of The Lost Episodes.

29 June. Nice Zappa special issue from Poland. Important European jazz magazine Jazz Forum, December 1993.

28 June. British Q magazine, August 1995, with short reviews of 53 re-issued Zappa albums on two pages.

27 June. The Milwaukee Journal, November 8, 1988, with an interview on business and polirics.

26 June. Rare short-living German edition of Guitar World, January 1994 issue.

25 June. A real bombshell – the earliest article/interview on The Mothers we have in our database – from December 8, 1965. In these days The Mothers were FZ, Roy Estrada, Ray Collins, Jimmy Carl Black and Henry Vestine, wearing black homburg hats. Take a look at Los Angeles radio newspaper KFWB/98 Hitline and the article "Look Out Plastic People The Mothers Have Arrived".

24 June. Guitar World, May 1995, 15 years anniversary issue published excerpts from best interviews of last 15 years. Including Frank Zappa interview.

23 June. Mojo, March 2005 – "The 50 Most Out There Albums Of All Time". You can guess three times who is #1.

22 June. Italian music and cinema monthly Il Mucchio Salvaggio, November 1984, containing article on Zappa albums issued between 1978-1983.

21 June. Another Finnish Suosikki, August 1976, with exclusive interview with Zappa in LA.

19 June. Italian photo magazine Skema, April 1970. Contains a picture of Zappa and The Mothers.

18 June. Full Finnish text with (Google translate) made available of articles on Zappa concerts in Helsinki, Finland:
- Suosikki, October 1973
- Intro, October 1973

17 June. Finnish Suosikki, October 1973. Contains article with interesting details about Zappa concerts in Helsinki,August 23-24, 1973. Last year recordings of these three concerts were issued as Road Tapes, Venue #2.

8 June. Mojo, April 2014 – Captain Beefheart & The Death Of The Magic Band.

6 June. Sex-Happy Hippie, book from 1968 with Zappa on the cover, but no Zappa content inside.

4 June. The Louisville Times, November 20, 1971 - 200 Motels review.

3 June. "Zappa in zoeloeland". Comic strip printed in Belgian magazine Humo, February 10, 1977.

2 June. Another review from New Zealand. Rip It Up, December 1978, Studio Tan.

1 June. New Zealand's long standing free rock paper Rip It Up, July 1979 issue, containing Sheik Yerbouti review.

31 May. Guitar Techniques, May issue, contains article "Extreme Guitar" with references to Frank Zappa, Robert Fripp, Derek Bailey etc.

30 May. Guitar Player, May issue reprinted Frank Zappa's Non-Food column from July 1983.

14 May. Guitarist May issue has a 4-page article on Adrian Belew. Many nice words and funny picture on Zappa.

13 May. German Sounds, February 1973. Article and album review on The Phlorescent Leech and Eddie.

3 May. Creem, April 1986. After 9 years another "Creem's Profile" on Zappa.

2 May. German biweekly Musiker Music News, April 1982, with German tour dates.

27 April. The Encyclopedia of Dead Rock Stars contains two-page Zappa entry and also numerous related artists, including band mates Jimmy Carl Black and Jim Sherwood.

26 April. Premier Guitar, March 2014 – Dweezil Zappa's pedalboard.

25 April. Creem, December 1977. One page "Creem's Profile".

24 April. Creem, June 1979. Sheik Yerbouti review. It did not like them.

17 April. Creem, May 1978. Funny short article on Zappa playing Leather in KROQ station for everybody to tape this album.

16 April. Torontian Beetle, Spetember 1971. "The phone rings. It's Frank Zappa from California. He wants to talk about his new album."

12 April. More Creem. March 1977 and Zoot Allures review.

11 April. Creem, November 1982, containing article on Moon and Frank Zappa.

9 April. Next issue of Ptolemaic Terrascope, Summer 1993, including Don Preston interview.

8 April. Nice British Ptolemaic Terrascope, Spring 1993, with a Bunk Gardner interview. Don Preston comes next.

4 April. The Signal from Georgia State University, October 1977, with a funny Zappa interview inside.

3 April. Los Angeles Free Press, June 21, 1968. Contains long full page article "Mother Is A Mother Is A Mother Is A Mother".

31 March. Danish music monthly Zonk, presumably from January 1974, containing 2 page article on Zappa.

28 March. British Uncut, April 2014, includes article on Lowell George with some Zappa references and short story "Who was Neon Park?"

27 March. Very nice 12-page Zappa special - German edition of Classic Rock, March 2014.

24 March. Third and last Superlove in this row, August 1969.

23 March. Another Superlove from April, 1969, with recognizable cover.

22 March. Danish monthly hippie and underground magazine Superlove, May 1968.

18 March. Dutch Mojo's Music Magazine, April 2005, two short articles to introduce Zappa Plays Zappa and Frank Zappa.

17 March. Delizie Freak, Italian book by Epìsch Porzioni, containing playlist of 30 songs from all periods of Frank Zappa's oeuvre.

16 March. First part of the 5-hour interview with FZ - Dutch Vinyl, December 1986.

15 march. Playboy, Dutch edition, August 1993, with local translation of a well-known 6-page interview.

14 March. First book on Zappa published in 2014. La filosofia di Frank Zappa by Stefano Marino. An Adornian view of the genius and work of Frank Zappa.

13 March. German prog rock magazine Eclipse, December 2009. Includes article on "Bobby Brown"and German translation.

12 March. Frank e il resto del mundo - Italian book by Alessandra Izzo, published in December 2013. Contains interviews with Patrice "Candy" Zappa, Bunk Gardner, Essra Mohawk, Fabio Teves, Claudio Trotta, Massimo Bassoli, Ed Mann, Pamela Des Barres, Rutger Hauer, and Ike Willis.

11 March. Musician, July 1995, including best sections of five interviews with Frank Zappa.

10 March. Another Good Times calendar – 2011. Zappa featured in November.

8 March. Estonian weekly Eesti Ekspress, November 2013, with an interview with Dweezil made before first ever ZPZ concert in Tallinn, Estonia

7 March. Playboy, German edition, May 2009, contains a very good picture of Moon Unit.

6 March. Guitar Player, June 1998 – short article on how Shut Up 'N Play Yer Guitar was made.

5 March. German Good Times magazine 2014 calendar. Zappa featured in March.

4 March. Spanish Ozono, April 1979, containing 3 pages with the review of the two shows that FZ performed in Madrid on March 14, 1979 with the title of "Three Hours & A Half With Frank Zappa".

3 March. German rock and pop culture magazine Spex, August 1991, with an article on Zappa's political activities in these years.

2 March. Dutch Vinyl, January 1987. Part 2 of the 5-hour interview with FZ. Part 1 is already on the way and will be posted soon.

1 March. The once popular magazine Guitar One, March 2007, containing articles on Frank Zappa and Mike Keneally.