The purpose of this site is to provide a little help to those that are looking for written material about Frank Zappa.
afka (at) afka.net
Upcoming Zappa books
Frank Zappa. The Man From Utopia by Michele Monina, October 2023
Freak Out! by Pauline Butcher. Translation to Czech language. 2023
Mother Superior : The Saga of Frank Zappa and the Mothers of Invention: The Authorised Biography by Alan Clayson - 2023 ?
Earth To Moon: A Memoir by Moon Unit Zappa - February 2024
The
main index of books on Zappa
contains now 32
1
items.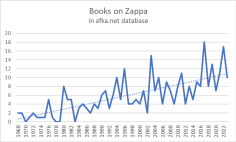 Support this website!
This is a non-profit website, dedicated to composer Frank Zappa.
Please help with the running costs of this website by making a donation.