Record Collector News
This bi-monthly is distributed free in Southern California, but is also available through mail subscriptions. Published since May 2008 by Jim Kaplan. It's a sequel to Record Convention News, a similar magazine published 13 years by Jim Philbrook until his death in 2007.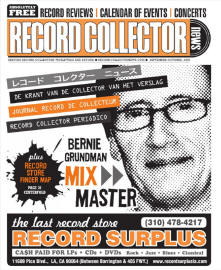 2008 September/October
Vol. 1 No. 3
Big Bidding on eBay
By David Thomson, p 36
---
The Mothers of Invention
Live at Solliden,
Skansen Soundstage,
Stockholm Sweden,
August 21, 1973
12" vinyl.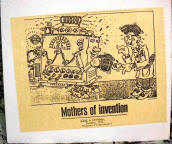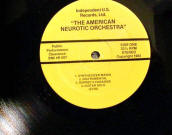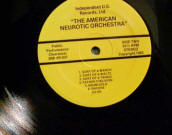 Big Bidding on eBay
Store owners are complaining that it is harder and harder to find good, used product as the kids are keeping their parents' collections. LPs are definitely in demand and on the rebound. And eBay is the world's barometer of their popularity. Check this out.
Reputed as ultra rare, the 1985 reissue by U.S. Records Ltd., is the radio station, unbanded tracks version. The seller suggests that, in his 35-plus years of, "Relentless Frankie collecting" he's never seen one. Presumably, paying 1380 bucks, neither has the buyer.
The track titles suggest that the content might be rare too, Side 1: Synthesizer Mania, Instrumental, Dupree's Paradise, Guitar solo. Side 2: A Sort of March, A Sort of Waltz, A Sort of Tango, Father Oblivion, Drum Solo and, Encore. Dupree's Paradise and Father Oblivion are familiar, and the tango is, undoubtedly, an early incarnation of the Be-Bop one release on Live at the Roxy.
There are also a couple of cuts on YouTube with Jean-Luc Ponty kickin' ass on Dupree's Paradise. Bruce Fowler blows some mean 'bone too. This link will get you in the vicinity, http://www.youtube.com/watch?v=gENGEArLnJc
Being a radio station, broadcast quality recording, no doubt the record plays better than your average bootleg. You never know, the CD might suddenly, become available.
The well-known 21.08.1973 concert is issued as LP Piqantique, part of the Beat The Boots set and as DVD Stockholm In Bondage. I can't find this record described here in any of the famous books like You Can't Do That On Bootz Anymore, The Torchum Never Stops or On Tour With The Evil Prince. And many thanks to slime.oofytv.set for this entry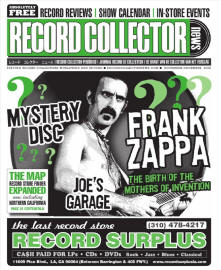 2008 November/December
Vol. 1 No. 4
Frank Zappa Mystery Disk
The Birth Of The Mothers Of Invention
By Ralph Hulett, pp 12-14, 16, 18-19

Joe's Garage
By Amy Lyons, p 10
---
This issue has a review of Joe's Garage performance and a Mystery Disk article with photos & excerpts from a San Diego '77 interview.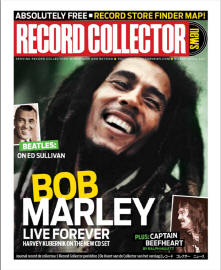 2011 March/April
Vol. 3 No. 6
Captain Beefheart - Musical Mystic
By Ralph Hulett, pp 28-29, 30, 32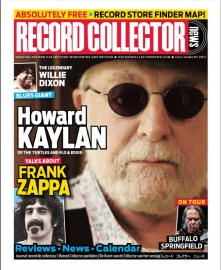 2011 July/August
Vol. 4 No. 2
Howar Kaylan
Let's Talk Frank Zappa
By Harvey Kubernik, pp 14-16, 18, 20, 22

---
bigtyke66 @ zappateers: "Harvey also has some interesting Zappa stuff in his book on Laurel Canyon that was published a couple of years ago (Canyon of Dreams: The Magic and the Music of Laurel Canyon)."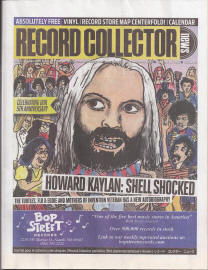 2013 May/June
Issue 33
Shell Shocked
By Harvey Kubernik, pp 19-20, 22, 24-26, 32

---
"Howard Kaylan of The Turtles, Flo and Eddie and The Mothers of Invention, shares memories of a storied life in rock music in his new autobiography." (See also Shell Shocked, autobiography by Howard Kaylan.
Source: slime.oofytv.set
2015 October/November
Issue 50
A Memorial and a Celebration
By Jim Kaplan, pp 8, 10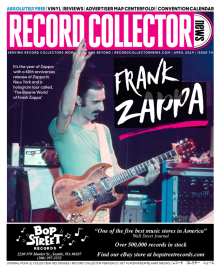 Issue 74
The Bizarre World Of Zappa
By Harvey Kubernik, pp 14-18, 20, 22

---
Frank Zappa's live double album Zappa in New York is being celebrated with 40th anniversary releases including a deluxe box set, expanded LPs and a 5-disc collection featuring unreleased performances. Plus, this April, "The Bizarre World Of Frank Zappa," a Frank Zappa hologram tour, premieres new music with former bandmates.
Interviews with Ahmet Zappa and Joe Travers included.
Source: slime.oofytv.set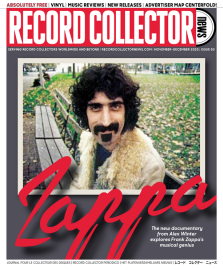 2020 November/December
Issue 83
A new Frank Zappa documentary from director Alex Winter mines archival footage to examine the musician's private side
By Harvey Kubernik

---
ZAPPA, the first all-access documentary on the life and times of Frank Zappa was set to premiere at the 2020 SXSW film festival. The Kickstarter campaign for this project was the highest funded documentary in crowdfunding history. (read more)
Source: recordcollectornews.com