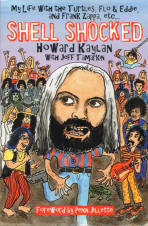 Shell Shocked
My Life with the Turtles, Flo & Eddie, and Frank Zappa, etc. ...

Backbeat Books


2013 April
ISBN 978-1-61780-846-3
278 pp, paperback, 23 x 15 cm
English
---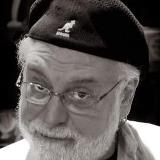 Howard Kaylan
Musician
One comment about this book was: "Good autobiography, even for someone that is more of a fan of Zappa, than the Turtles".
The book has foreword (also a good read) by Penn Jillette. And front cover illustration is by Cal Schenkel, of course. You can even find index at the end of book.
Howard relays his life story with great wit and aplomb. The tale about how he and Mark Volman avoided the draft, with cousin Herbie Cohen's help, is trouser-wettingly hilarious. He's honest and open about the drug use, his myriad infidelities and the bad business decisions that conspired to split the Turtles up - and the fact that turning down Becker and Fagen's offer to join their new band might have been an error! Where else might you find out that Tom Jones named his penis Wendell? And if you didn't already know who the 'The Fabulous Musician' was that released a torrent of purple spew from an appealing blonde from the clues in Champagne Lecture and The Real Frank Zappa Book, Howard lays it out for ya.
Howard Kaylan is the lead vocalist of 60s rock legends the Turtles, whose Top 10 hits include "Happy Together," "Elenore," "She'd Rather Be with Me," and "You Showed Me." He sang with Frank Zappa and the Mothers of Invention and was half of the popular duo Flo and Eddie. Kaylan's voice can also be heard on classic recordings by Bruce Springsteen, Alice Cooper, T. Rex, and many others.
Reviews/News
Backbeat Books
Howard Kaylan interview @ Record Collector News
The Howard Kaylan Interview - How a Turtle became a Mother
A Review by Idiotbastard
Howard Kaylan autobiography out on April 16th @ Zappateers
Customer reviews @ Amazon
Facebook
Howard Kaylan Storms the White House in 'Shell Shocked'
Reviews @ goodreads.com

Bookshops
Source: slime.oofytv.set, Václav Pěnkava