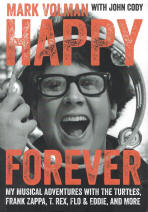 Happy Forever

Jawbobe Press


2023 June 20
ISBN 978-1-911036-19-7
368 pp, paperback, 21,5 x 15 cm
English
---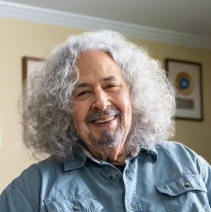 Mark Volman
Musician
Mark Volman:
This book is a puzzle. The outside frame pieces are about me, but the picture wouldn't be complete without the perspectives of all the people telling you about me.
The Frank Zappa chapter was written based on interviews with, among others, Don Preston, Gail Zappa, Jim Pons, Ian Underwood, George Duke, Jeff Simmons, Aynsley Dunbar, Alice Cooper, Ray Manzarek, Micky Dolenz.
Jawbone Press about the book:
Mark Volman has led a storied life, and many of those stories are contained in Happy Forever. A true son of Southern California, he has gone from topping the charts with The Turtles ('Happy Together') to underground cred with Frank Zappa and beyond. As Flo & Eddie, Mark and his longtime singing partner Howard Kaylan were the not-so-secret ingredient on many other artist's records, taking Bruce Springsteen into the Top 10 for the very first time and helping T. Rex dominate the British charts. Then came The Ramones, U2, Blondie, Duran Duran, and so many more; the list of credits is long and varied.

Happy Forever covers all of that, along with subsequent forays into animation, a stint as a radio personality in Los Angeles and New York, and a midlife return to academia, which led Mark to create and run innovative college programs in LA and Nashville. But this is not the world according to Mark Volman, and it is not your average musical autobiography. Alongside his own comments, this uniquely insightful book contains contributions from more than one hundred of Mark's peers, friends, and lovers who share their thoughts on the man himself and on topics that span the social and cultural landscape of past half-century.

Happy Forever's cast list reads like a who's who of popular music, featuring members of The Doors, The Monkees, The Byrds, The E Street Band, and many more; producers Tony Visconti, Bob Ezrin, and Hal Willner; voice actors from The Simpsons and the Firesign Theatre; and key figures from the worlds of radio, animation, and academia. The book also includes previously unseen photographs and forewords by Alice Cooper and Chris Hillman.
Reviews/News
Jawbone Press
Theturtles.com
Shell Shocked by Howard Kaylan
Review @ Mojo
Review @ The Arts Fuse
Review @ Best Classic Bands
Reviews @ goodreads.com

Bookshops