Distant Drummer
Distant Drummer
was a 1960s counterculture underground newspaper published in Philadelphia, Pennsylvania from November 1967 to August 1979. It changed titles twice: from October 2, 1970 to August 12, 1971 (issues no. 105–151) it was
Thursday's Drummer
, and subsequently it was known simply as
The Drummer
until its demise in 1979, after a run of 568 issues. (
wikipedia
)
Initially it was a monthly, since January 1969 a weekly paper.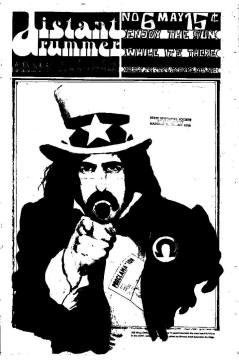 No. 6
---
We have only the cover page copied. We don't know is any Zappa content inside or not.
Source: Charles Ulrich

1969 March ??
No. ?
An Album For Germans
By Bill Hoy, p 14
---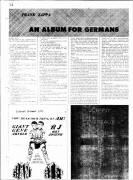 (DD interviewed Frank Zappa during his Feb. 11-12 gig at the Electric Factory.)
DD: About your music, are you going through any major changes?
ZAPPA: It changes everyday.
DD: In what direction do you feel it's going?
ZAPPA: It's heading towards music. (read more)
Source: Charles Ulrich, Steve Hecht, Drew51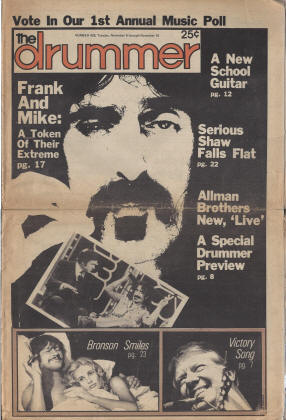 1976 November 9
No. 426
Zappa, Mike & J.J. - A Token of Their Extreme
By Keith Mason, p 17
---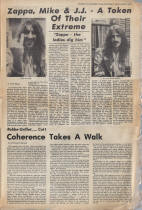 It was decided that Zappa would be the subject of our close-up on professional television shirkers; and the perfect place for our study would be right here in Philadelphia, at the Mike Douglas Show. (read more)
Source: slime.oofytv.set