San Francisco Examiner
The
San Francisco Examiner
is a daily newspaper distributed in and around San Francisco, California, published since 1863. (
wikipedia
)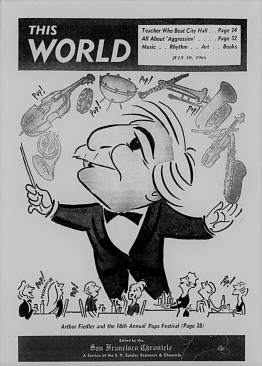 Vol. 224 No. 191
This World section
Rock LPs – Some Remarkable Experiments
By Ralph J. Gleason, p 31
---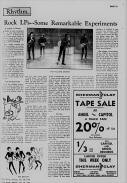 "The Mother of Invention" (Verve V-5005-2) is a twin LP set done by the Los Angeles adult rock group, The Mothers. The packaging is contrivance rather than invention, being some sort of ad agency version of the hippy scene as are the song lyrics, which are reminiscent of the approach used by Lou Gottlieb in his classic satire "Vikki Dugan."

However, the uses of electronics in the longer numbers, the work of Frank Zappa, are quite interesting for the effects obtained and indicate that once this group gets away from its determination to be campy hip, it could produce really interesting music.

1975 December 24
Vol. 111 No. 168
A 'Blacklisted Genius' Zaps The S.F. Sound
By Philip Elwood, p 16
---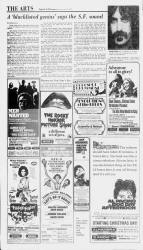 Composer, guitarist, singer Zappa for 10 years has been the tutelar deity who, utilizing talent, spirit and his peculiar nature, has created extraordinarily powerful music with his instrumental ensemble called the Mothers of Invention.
Spending a few minutes in conversation with Zappa is like selecting food from an overstocked cafeteria assortment. He has thoughtful comments on all subjects, musical and otherwise, is often dogmatic and usually iconoclastic. (read more)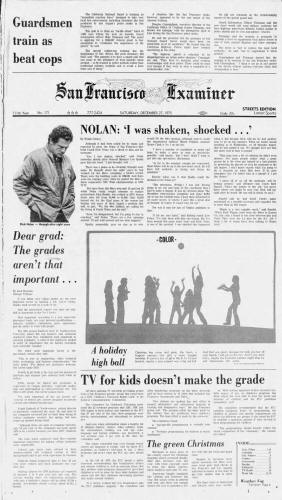 1975 December 27
Vol. 111 No. 171
An Old Flame Flickers Low
By Philip Elwood, p 7
---
Zappa played with a quintet, not a sextet. His lighting, though most effective, displayed little of the originality he projected in words. The sound system was abominable, both out of focus and mix and usually frightfully balanced. (read more)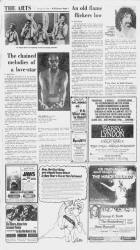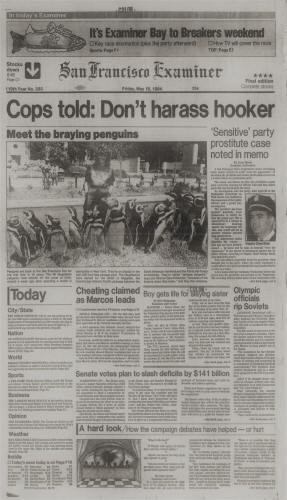 Vol. 119 No. 293
The serious side of Frank Zappa
By Michael Heaton, pp E1, E6
---
WHEN THE Chamber Symphony of San Francisco performs its fifth series of concerts tonight and Saturday, the music of Gabriele, Mozart, Ibert and Schubert may have to do more than roll over to accommodate the American premiere of "Dupree's Paradise" by American composer Frank Zappa. (read more)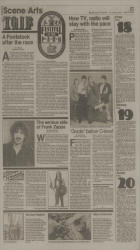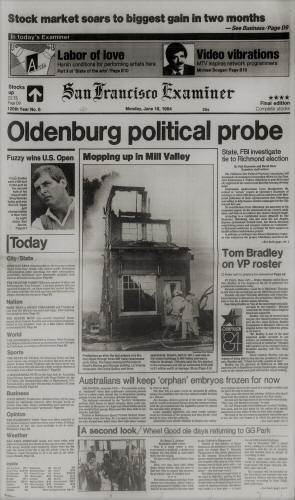 Vol. 120 No. 6
Zappa's Entertaining Concert
By Scott Beach, p B15
---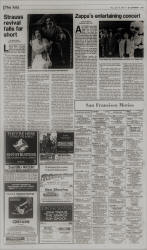 AS I WAITED to enter Zellerbach Hall, a young man stepped up to me and asked: "Do you know where I can check my monster?" His right arm was occupied by a 2-foot-long Gila monster, with reddish eyes and a busily flickering tongue. He was on his way to the same concert I was there to cover, which would feature a suite of works by Frank Zappa. Somehow, it didn't seem a bit surprising that a patron at such an event would show up bearing a live monster. (read more)