Intro
Popular Finnish monthly youth magazine, published 1968-1976. Later transformed into magazine
Help
.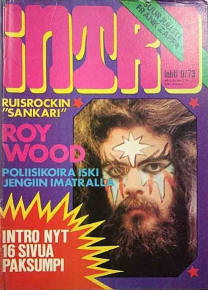 1973 September
No. 9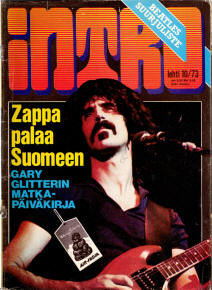 No. 10
Zappa rakastui suomalaisen yleisöön
(Zappa fell in love with Finnish audience)
By Matti Laipio, 2 pp

Frank Zappa and The Mothers: Over-Nite Sensation (review)
By ?, 1 p
---
The concerts reviewed here were finally released in October 2013 as Road Tapes, Venue #2.
I don't feel like translating the whole article (there may be a translation already floating around somewhere), but I'll pick a couple of interesting things. The concerts were held at Finlandia Hall on two consecutive dates and there was an afterparty jam without Frank at N-Klubi. The article is from a magazine called Intro.

"A future release called Live In Finlandia by The Mothers Of Invention wouldn't be a surprise because Frank recorded all of his performances and was quite pleased with them."

Ian Underwood had caught a cold in Sweden and didn't attend the N-Klubi jam, but I take it he played at the actual concerts. The article also mentions a 3-hour soundcheck on first day and a rehearsal on second. Also in the end there's a mention of the Mothers' 10-year anniversary and plans for a "several-LP box" for the occasion.
Source: slime.oofytv.set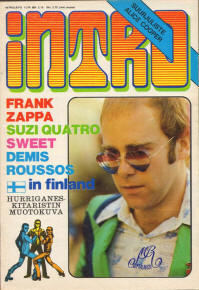 1974 November
No. 11
Tulin, näin, soitin ja voitin (I came, I saw, I played, I won)
By Lauri Sipilä, pp 2-4

Zappa/Mothers: Roxy & Elsewhere (review)
By ?, p 58
---
Article and interview with Zappa visiting Helsinki in September 21-24, 1974. Read more Frank Zappa in Finland.
The interview is interesting and contains some unique info. Zappa met (again, first time it was a year ago) with Finnish bass player Pekka Pohjola, was very impressed by him and they planned to meet again in Christmas time to record new Zappa solo album.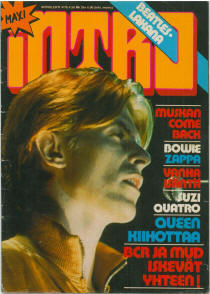 No. 4
Zappa pettyi Suomeen ... (Zappa disappointed in Finland ...)
By Matti Laipio, pp 64-65