Scene
Free entertainment weekly, Cleveland, Ohio. Founded in 1970 as a music publication,
Scene
has since expanded its scope to the national and local news and editorial coverage offering civic journalism. (
Mondo Times
)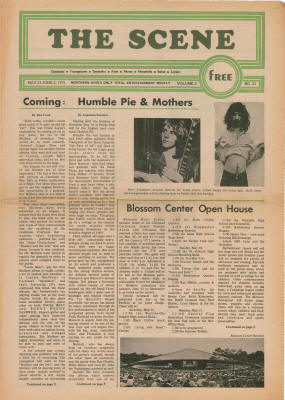 Vol. 2 No. 21
Coming: Humble Pie & Mothers
By Dan Cook, pp 1, 9
---
"Kids today wouldn't know good music if it came up and hit 'em!" This was Frank Zappa's explanation for ending an era in pop music, the era of the Mothers of Invention. They would do no more concerts, claimed Zappa. They had enough tapes for another fifteen album, they were sick and tired of touring, people didn't appreciate them, and so on. But now they return to the stage.
The reasons for another tour of the Mothers are of little importance. The fact is that they will perform in Cleveland on May 30th in Public Auditorium at 8:30pm. For those who never got to-see the original Mothers, this opportunity is a godsend. For Mothers fans, it is a chance to see what this innovative group is up to now.
Ever since their conception, the Mothers have been somewhat of an enigma. It seemed that the music they liked to play was liked only by the critics, who spotted the modern jazz roots of their instrumentals and the excellence of the musicians. Everyone else namely, their consuming audiences - preferred the stuff like "Susie Creamcheese" and "Rueben and the Jets" that was funny because it was outdated. So the Mothers were forced to exploit the gimmick in order to present more complex music to the public.
"Uncle Meat", was the first Mothers album to really contain a lot of modern jazz numbers, a la Captain Beefheart or Coltrane's "Ascension", and their following LP's have continued this trend. On these albums, Ian Underwood's sax playing stands out as the most creative sound. He also plays some incredible electric piano solos on both UNCLE MEAT and BURNT WEENY SANDWICH. Zappa's guitar and organ playing have improved tremendously since their first albums, and the rest of the group chimes in from time to time with solos on various horns, keyboards and stringed instruments. The Mothers are highly diversified, and seem to be able to play any' style of music well.
A live concert may contain anything and probably will have a little bit of everything. The youngsters will want to hear "Rueben and the Jets", and the Mothers will be playing some of their avant-garde material to please whoever is left. Zappa usually provides an interesting stage show, rapping with the audience, clowning, doing a bit of preaching - this is expected of the Mothers by now. Who knows, things may have changed by this time, but it is doubtful.
That the Mothers have become one of the major musical influences cannot be disputed. Sha-Na-Na took their 1950's act and built their entire show around it; Captain Beefheart took the jazz ideas and made it his bag; Tim Buckley and Alice Cooper have had their music and images re-directed under Zappa's production and management. The Mothers practically invented electronic music, and made a science out of feedback and other amplificational effects.
Source: slime.oofytv.set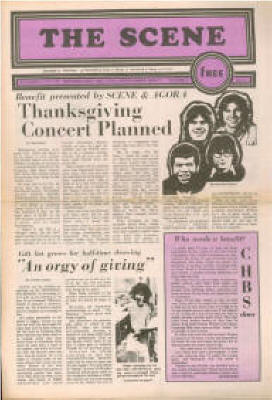 1971 November 11-17
Gift List Grows For Half-Time Drawing "An Orgy Of Giving"
By Carnie Amata, pp 1, 8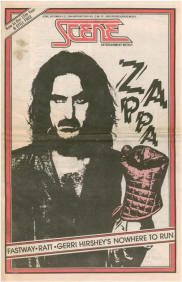 1984 September 6-12
His Best Friends Are Computers
By Bill Camarata, p 9
---
Like most writers, I record my interviews so that I can use the tape to get accurate quotes from the artist when I write the story. On the big day, I called the number I was supposed to, and there was no answer at Frank's room. I told the operator I'd call back in a few minutes, hung up and went into the next room to turn off the tape recorder and rewind the tape. While the reels were spinning, the phone rang. Since the phone in the living room was disassembled for the recording hookup, I ran into the other room and answered the phone.
"Hello?"
"Bill?"
"Yes?"
"Frank Zappa. They're having problems with the phones here, so I thought I'd call you since you can't get through here." I stood in shock for a second, then got control of myself.
"Oh. Thanks! Uh, let me go and turn the recorder back on. I was rewinding when you called." I did so, and returned to the room, sat down grabbed the phone, and started my interview of a lifetime. (read more)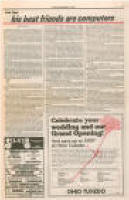 Source: slime.oofytv.set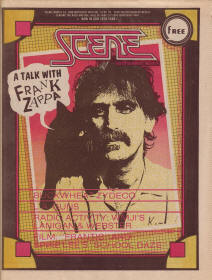 1988 March 3-9
A Talk With Frank Zappa
By Bill Camarata, p 9
---
SCENE: Hi, Frank. What's new?
Frank Zappa: Well, I just got a call from a guy from "60 Minutes." They're going to be doing something on this stuff.
SCENE: The tour?
FZ: Well, they're more interested in the voter registration than rock 'n' roll. We're going to be having dinner with them tomorrow night to figure out what we're going to do. It hasn't even been shot yet.
SCENE: Have you set up voter registration tables at all of the concerts so far?
FZ: Every one. We've been working with the League of Women Voters, and in the cities where they wouldn't cooperate, couldn't cooperate, or didn't have the volunteers, various citizens groups, either with of without the League of Women Voters, have staffed the tables. We expect that we're going to be able to do every single concert on the U.S. tour. (read more)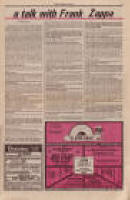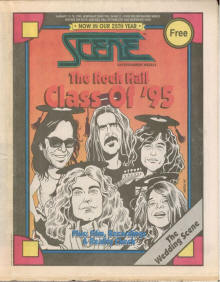 1995 January 12-18
Rock And Roll Hall Of Fame Inductees: The Class Of 1995
p 13
---
Combining sharp wit with his unique fusions of jazz, classical and rock, Frank Zappa (1940-1993) set rock and roll on its ear with his late '60s band Mothers Of Invention. Off-beat and experimental, Zappa's sometimes zany yet brilliantly crafted music has provided some of the most controversial moments of the last 20 years, taking aim at everything from politics to rock and roll itself with albums like FREAK OUT! (1966), WE'RE ONLY IN IT FOR THE MONEY (1968) and OVERNITE SENSATION (1973). Ever the iconoclast, Zappa would probably find it highly amusing to be inducted into the Rock And Roll Hall Of Fame.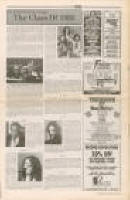 Source: slime.oofytv.set