Rock World
Rock World
was an international short-living monthly magazine. Started in June 1992 and ceased by the end of 1993 (?).
Rock World,
directed by Jürgen Wigginghaus, was associated with his other magazines like
Metal Hammer
and had three editions:
UK
(started in June),
German
(started in July) and
French
(started in August). Later issues of the French edition were in English.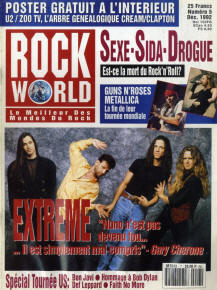 1992 December
No. 5
Frank Zappa "Playground Psychotics"
By Chris Welch, 1 p

---

Automatic translation: This double CD not only contains performances challenged by some of Frank's hottest versions of Mothers Of Invention, but also sneaks into the rebellious growls of its musicians. 2 hours and 12 minutes of pure Zappa entertainment can be found here, with specially funny voices from Howard Kaylan and Mark Volman. (read more)
Source: Fulvio Fiore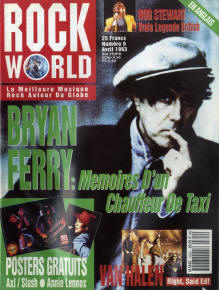 No. 9
The Sons Of Invention / The Zappa Dynasty
By Chris Welch, pp 30-32