Guitarist & Bass
This magazine for guitar players was launched in 1989 as
Guitarist
. In the 1990s, the print edition had a circulation of around 50,000. Since #142 in January 2002 the title of the magazine was changed to
Guitarist & Bass.
One another French magazine is titled similarly -
Guitar & Bass
.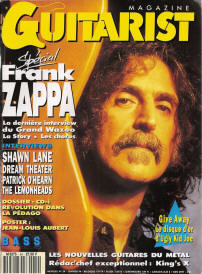 No. 54
La dernière brilliante interview du Grande Wazoo
By Joe Jackson, pp 18-21

Frank Zappa dossier
By Marcel Graff & Do Caillerès, pp 24-28

Patrick O'Hearn interview
By Olivier Cauvin, pp 72-74

Zappa et la basse
By Olivier Cauvin, p 75

Stars à la basse. Quelques compos de Frank Zappa.
By Francis Daruzcuren, pp 80-82

Rock legend à la manière de transylvania boogie
By Francois Rolland, pp 88-90

---
English text of the interview by Joe Jackson – Frank's Wild Years.
Source: slime.oofytv.set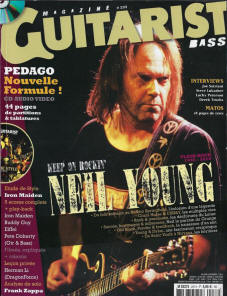 2010 October / November
No. 237
Impro modale extrême
À la manière de Frank Zappa
By Christophe Rime, pp 114-116