Frank's Wild Years
By Joe Jackson
---
For almost 30 years, FRANK ZAPPA has been at the cutting edge of what can loosely be defined as avant garde rock. Now aged 53 and in ailing health, Zappa reflects with Joe Jackson on an eventful career which has rarely embraced the mainstream.
'Information is not knowledge, knowledge is not wisdom, wisdom is not truth, truth is not beauty, beauty is not love, love is not music. Music is the best.' – Frank Zappa, Joe's Garage, 1979.
Technically, what follows is not an interview at all, rather the result of an unplanned and hastily improvised conversation that took place in the Hollywood Hills, overlooking Los Angeles, on the morning after the Grammy Awards.
It also is a conversation which was conducted in relatively minor, muted tones with a visibly weakened and sallow-skinned Frank Zappa who, only moments before, had been forced to break away from a recording session with Tom Jones and the Chieftains. Taking Paddy Moloney to one side in the studio he'd quietly explained 'that because of the illness I have to go back my room.' Frank Zappa has been diagnosed as suffering from prostate cancer.
Even though he hadn't been producing the session, or playing on it, Zappa's presence was clearly felt by all, as he sat in an armchair in the control room soaking up the richly resonant tones of Jones singing Tennessee Waltz while Moloney, Martin Fay, Kevin Conneff, Matt Molloy, Derek Bell and Seán Keane set the Welsh singer's voice back in the Celtic soil, where it belongs.
Indeed, apart from the moment when Zappa's son, Ahmet, had smiled – while fleetingly squeezing his father's shoulder, it was easy to forget the man's illness and easier again to see evidence of the musical intelligence that pushed him so far ahead of most of his peers in rock, placing him nearer avant-garde in jazz and classical music. This approach has also made him one of the most misunderstood, and consequently reviled, figures in the history of rock, itself a music based more on instinct than on intellect.
However, Zappa's innate musical talent is irrefutable. At one point during this session, when a particularly unyielding and tangled sequence of orchestrated notes was getting the better of Paddy Moloney, Zappa seemed to just breathe in that direction, gently suggesting 'why not try it this way?' and within minutes the music was flowing again.
But then Zappa and the Chieftains share a common, if not immediately obvious, artistic ground. When the latter seek to mix the spontaneity of folk music with rigidly rooted constructs based in the world of classical music, Zappa works from the same base yet aims more for the wild-of-spirit style of R&B he loved as a youth. Zappa's admiration for the Chieftains can be gauged from the fact that he allowed them to use his private recording studio while they were in LA to attend the Grammy Awards ceremony.
He first heard them 'about five or six years ago' and is, he claims, 'quite astounded' to find that they would be regarded as 'relatively unfashionable' by many rock critics and fans in Ireland, a country in which by contrast U2 have been practically deified.
'U2 may be the most popular, and successful musical export coming from Ireland today, but there's no comparison between the musical quality of what they do and what the Chieftains do', says Zappa. 'We play together here nearly every time they're in town and I love the sounds these guys make. I love the melodies, the chord changes and especially they way their music is performed. Each member of the group is expert on his instrument, not just in terms of technique, but in terms of the concept they have of what the final ensemble product is supposed to sound like. That is something you are only going to get with a group that has been together 30 years.'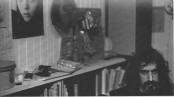 Zappa does not respond too favourably to claims that U2 now are 'postmodern rockers'.
'"Postmodern rockers", what does that mean? Do they themselves know?' he says, smiling wryly. 'And which would you rather have? Mediocre innovation or a direct linear descent from Celtic culture, which is what I hear in the music of the Chieftains? And even if you do stumble across excellent innovation what are you going to do with it, how are you going to appreciate it, if you don't first appreciate your own culture?'
'The Chieftains are their own culture and I hear traces of not only Celtic history but global history in their work, echoing back to the beginning of time. I've noticed that when they play here in my home with ethnic musicians from all over the world.'
As a composer and guitarist who very much defined 'avant garde rock' during the late 1960s with his group, the Mothers of Invention, Frank Zappa could claim to know exactly what he is talking about. Probably best known for his own explorations of polyrhythms and atonality and for stretching rock music in a symphonic sense, Zappa also works from a more traditional base, 'loving normal melodies, modal tunes and chord changes and rhythms in groups of three, which is where a lot of the Chieftains music comes from', he says.
By blending both these forces, often within the same album, or song or even single music note, Zappa has produced, in over 60 albums, 'a towering body of work that is probably rock music's closest equivalent to the legacy of Duke Ellington', according to the recently published Guinness Encyclopedia of Popular Music.
Born in Baltimore, USA in 1940 to parents who were second generation Sicilian Greeks (his father played 'strolling crooner' guitar), Frank Vincent Zappa first began to study orchestral percussion at summer school when he was 12 years old. Early exposure to avant-garde composer Edgard Varèse's Ionisation on the first album he bought two years later, further fuelled his interest in rhythmic experimentation, which was supplemented by a teenage passion for the kind of electric guitar solos he heard on pre-rock R&B singles by the likes of Howlin Wolf, Muddy Waters and Johnny 'Guitar' Watson.
However, on his 15th birthday, just as the world began to roll into the rock era, he was asked by his mother what he wanted for roughly five dollars and, she recalls in his 1989 autobiography, his answer was, 'Well, instead of buying me something, why don't you just let me make a long distance phone call.' She did, and would say that, musically, her son's been making an extension of that phone call ever since.
'I decided that I would call Edgard Varèse in New York. His wife, Louise, told me he was in Brussels working on a piece for the World's Fair (Poeme Electronique). I don't remember exactly what I said when I finally spoke to him a few weeks later – probably something articulate like "Gee – I really dig your music." But he told me he was working on a new piece called Deserts which thrilled me since Lancaster, California, was in the desert. When you're 15 and living in the Mojave desert, and you find that the World's Greatest Composer is working on a song about your hometown so to speak – you can get pretty excited!'
Zappa was similarly struck by the shock of recognition when he bought his second album, an interpretation of Stravinsky's The Rite of Spring by the less-than-prestigious World Wide Symphony Orchestra. Hauling him into the world of 12-tone music, Anton Webern's string quartets and his Symphony Op. 21 completed the triad of influences that have since dominated the head and heart of Frank Zappa.
Similarly influential, in a slightly different way, were the doo-wop sounds he heard on singles by groups like The Jewels, such as one of his favourites, Angel In My Life. Doo-wop was an influence he'd later lovingly explore on the album Cruisin With Ruben And The Jets.
Having begun composing what he describes as his own 'classical works' at 14, Zappa joined his first rhythm 'n' blues band, The Ramblers, two years later in 1956. Meeting Don Van Vliet – later Captain Beefheart – in High School connected him with a 'like-minded R&B fiend.'
'There was a place in San Diego, on the ground floor of the Maryland Hotel, where you could buy R&B singles unobtainable elsewhere – all those Lightnin' Slim and Slim Harpo sides on the Excello label. The reason you couldn't order them in the 'white-person record stores' was that Excello had a policy that if a store wanted to carry their R&B line, it also had to take their gospel catalogue! So the only way I could get a Lightnin' Slim record was to travel a couple of hundred miles and buy it second-hand, all scratched up. But Don was also an R&B fiend, so we'd listen for hours on end to obscure hits by the likes of Clarence 'Gatemouth' Brown, Don and Dewey and The Spaniels.'
By 1962 Frank Zappa had his own first hit as a composer, the evocatively titled Memories of El Monte, a doo-wop number recorded by The Penguins. Within four years he would form The Mothers of Invention and invent 'freak rock' according to a less than reliable 'Electro factoid' currently running on the Dow Jones computer information service.
However, the suggestion that his first album Freak Out in 1966, inspired The Beatles' thematically-unified Sergeant Peppers Lonely Hearts Club Band is undoubtedly true. One year later Zappa himself satirised The Beatles and the hippie ethos with which he is often erroneously associated, when he released We're Only In It For The Money, which had a mock Sgt. Pepper sleeve and contained a track that sent up the Stones' Satisfaction: the opening number Hungry Freaks, Daddy. Whatever the Stones thought, The Beatles, apparently, were not amused.
Nor were most rock critics too excited by Zappa's totally innovative and characteristic integration of stoned humour into rock albums, at least not in the context of the Varèse-influenced music. Firing the opening salvo in a rock journalists versus Zappa was that has continued throughout his career, Pete Thomas, writing in the Los Angeles Times in 1966, said 'I guess you might call it surrealistic painting set to music. Not content to record just two sides of musical gibberish, the Mothers of Invention devote four full sides to their type of "artistry". If anyone owns this album, perhaps he can tell me what the hell is going on.'
Later, Zappa himself would rather accurately, if condescendingly, reply to such rock critics, particularly those who seek to reduce meaning in music to what a song's words have to say.
'Most album reviews sidestep the musical content', he has said, 'because writers with enough technical knowledge to discuss music do not usually cover rock 'n' roll. Whatever image I may have in the marketplace has been based, to a certain extent, on the opinions of people poorly qualified to make the judgement in the first place.'
Not surprisingly, when Frank Zappa realised his first solo album in 1967, Lumpy Gravy, it was a John Cage-like soundscape, recorded with a 50 piece orchestra. Seen then as the antithesis of 'progressive rock' it was, in fact, psychedelic to its core.
By 1972 he was studying contemporary music in Germany alongside Stockhausen and Boulez – with whom he would later record – and producing staggeringly imaginative and, at times, maddeningly indulgent, orchestral jazz-based albums such as The Grand Wazoo. In time Rolling Stone would suggest that his 'erasure of the lines between high and pop art that he premiered with his first band, the Mothers of Invention, remains one of the emancipatory gestures of the 1960s'.
The same is true of much of his work since then, including the increasingly political albums Tinseltown Rebellion and You Are What You Is, which aimed violent missives in the direction of the fundamentalist Right in America. During the '80s he also composed a 'Broadway Musical' about AIDS, homophobia and racism, entitled ThingFish; produced a concert of music by Varèse; recorded an album of 18th century baroque music and, arguably, kicked at least one strand of rock 'n' roll guitar-playing into the 21st century with albums such as Shut Up 'n' Play Yer Guitar.
'Stylistically, my approach is closest to Guitar Slim. When I first heard him I thought "What the fuck is he doing?" His style of playing seemed "beyond the notes" – it had more to do with the "attitude" with which he seemed to be mangling his instrument. What came out was not just the sum total of certain pitches versus certain chords versus certain rhythms – to my ears he also provided the first instance I can recall of a distorted electric guitar on record.'
It is this core element of distortion and dissonance which links Guitar Slim to Varèse and to Stravinsky, according to Zappa, and many musicologists. However while he himself has been attempting to help push the guitar into the age of postmodernism, the concept of the contemporary 'Rock Guitar Solo' is something he despises.
'It's been pretty much reduced to Weedly--weedly-wee, make a face, hold your guitar like it's your weenie, point it heavenward, and look like you're really doing something. Then, you get a big ovation while the smoke bombs go off, and the motorised lights in your truss twirl around.'
Clearly he doesn't believe that rock 'n' roll itself has been extended to the same extent that classical music has evolved during this century.
'Some people think that if you add one extra chord to a blues you've expanded the horizons and others think if you do add that extra chord you've spoiled the blues,' he says, smiling. 'So in terms of advances in music it depends on what angle you're coming from and what kind of purist you want to be. But looking back on 30 years in the music business I'm afraid I'd have to say that if rock has expanded at all, in the real sense of the word, it has expanded mostly in the direction of corporate merchandising. Most of the creativity that you see in the world of rock today is marketing creativity, backing up basic and incredibly banal material to begin with.'
The dominance of market values in rock sometimes makes Frank Zappa feel that all of his attempts to extend the genre have been in vain.
'Because you can only push a thing so far if you can't reach an audience because radio won't play your music and if you can't afford to tour unless you're financed by a soft drink company,' he says. 'You are driven out of the market place by forces that clearly are more interested in selling product than expanding the horizons of music, and by artists who support them. Indeed both forces conspire to hold music back, to keep everything at sic, manageable and marketable level.'
Against this backdrop has Frank Zappa any hope for rock music or does he believe that corporate processing will eventually kill all the potential it originally showed during the mid 1950s?
'I think corporate processing will kill rock, eventually' he says, sighing. 'That's why I tell people get it while it's hot. That's another good thing about a group like the Chieftains, they play it live without any concessions to the video age. It's real, not just bullshit like most of the rest of what you see/hear these days. Especially what you see. It's tragic.'
It should come as no surprise to his European fans to find that these days Zappa's latest music can more often be heard on BBC Radio 4 and reviewed in classical music magazines like Gramophone, rather than in rock mags, unfortunately. He is just about to release Yellow Shark, the recording of a concert he did in Germany last September and is working on an opera which, as he says 'if all goes well' will be premiered in Vienna in 1994. Needless to say, as with his musical language in general, his approach to opera is non-linear, non-traditional.
'There is very little, if any, singing in this opera' he says. 'There is the human voice but most of the material is spoken and 90 per cent of the musical accompaniment is done with a computer. And the spoken text, though comprised of comprehensible sentences and paragraphs, when you hear what's said you're still left scratching your head in terms of what people are actually saying. Largely because it was created out of found objects, pieces of conversations that were edited together to produce the plot.'
Zappa smiles ironically on revealing that the title to this little opus is Civilisation Phase Three. However, the smile disappears as he speaks about his fears that the opera may never be staged.
'The music is done, so the only thing that remains to be seen is whether or not it will be produced in Vienna', he says. 'The Director of the Vienna Festival was here a month ago and listened to the whole thing and loved it. But the problem is that the show requires a lot of machinery to stage so he's presently going around trying to syndicate the performance to five or six other opera houses to fund it. And I haven't heard from him since he was here. But I had a meeting last week with Peter Sellers, the opera producer and though he too loved it he said 'it shouldn't go on stage, you should make a film out of it.
But hopefully, something will happen with it if, as I say, all things go well.'
Thirty years into his career, does Zappa feel he has gotten across his own music to the audience he desired, be it a rock audience or his more recently developed audience as a classical composer?
'The bulk of the people who enjoy my music have probably come into contact with it by seeking it out rather than having it delivered through the normal processes in the music industry', he says. 'And they write and tell me what it means to them and which albums they like best and why and that always has been immensely gratifying, an inspiration to go on. But most of the people, especially here in the United States, haven't an idea of what I do or have done. As I say rarely, if ever, get played on U.S. radio. If they play anything at all they'll play the "hit records" like Don't Eat The Yellow Snow or, in Ireland, they may play Peaches en Regalia, but none of the things that I would say are my best work.'

What would Frank Zappa describe as his best work?
'Things like The Jazz Discharge Party or Dangerous Kitchen. I would say there's nothing else in rock 'n' roll or in any other medium that resembles those two songs. You mentioned Scott Walker writing rock songs within the tradition of Schoenberg, but I haven't heard those. But The Jazz Discharge Party does come close to Schoenberg, with its jazz accompaniment to a Sprechgesang (speech-song) text presentation. In it, the melody and the words were improvised and the arrangement built around that in the studio. And in Dangerous Kitchen, the lyrics were written but the pitched recitation was something that was done free-form on stage, with the band following.'
Having acknowledged the call from his wife, Gail, which tells him that his nurse has arrived Zappa smiles a smile that is half ironic, half sad and says, 'What I've just described is certainly not something I'd recommend as a musical direction to any young performers! If they take that direction they'll probably sell even fewer records than you say Mr Walker did with Climate of Hunter! Or I have, of certain albums.'
Throughout our conversation Frank Zappa had remained wrapped up inside a winter overcoat, despite the heat of the California sunshine. Asked, finally, about his health, he says 'it's no good' then pauses. After a few moments spent silently looking at the revolving spindle of my tape recorder which seems to remind him of the relentless passage of time he almost whispers, 'I have prostate cancer and it has spread to my bones.' It is terminal, in the short term? 'Everything is terminal' he says, smiling. 'But as to the question of whether it is, in the short term the only thing I can say is that I hope not. It all depends. That's why, right now, I've got to leave you and go into my bedroom and have a blood transfusion.'
Joe Jackson
---
This interview was printed first in Hot Press, April 7, 1993. Another shorter version was printed in December 1993 in The Irish Times.
Read by OCR software. If you spot errors, let me know afka (at) afka.net