RCD
Rock Compact Disc Magazine
. A former UK monthly rock magazine, which had free CD's with every issue from July 1992 to 1994, only lasting for 16 issues.
There were also sister magazines published:
Soul Compact Disc
&
Heavy Metal Compact Disc
, which only ran for a few issues. (
rocklist.net
)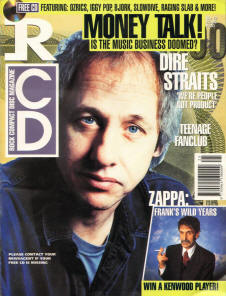 No. 12
Frank's Wild Years
By Joe Jackson, 5pp 44-48
---
Technically, what follows is not an interview at all, rather the result of an unplanned and hastily improvised conversation that took place in the Hollywood Hills, overlooking Los Angeles, on the morning after the Grammy Awards.
It also is a conversation which was conducted in relatively minor, muted tones with a visibly weakened and sallow-skinned Frank Zappa who, only moments before, had been forced to break away from a recording session with Tom Jones and the Chieftains. Taking Paddy Moloney to one side in the studio he'd quietly explained 'that because of the illness I have to go back my room.' Frank Zappa has been diagnosed as suffering from prostate cancer.
Even though he hadn't been producing the session, or playing on it, Zappa's presence was clearly felt by all, as he sat in an armchair in the control room soaking up the richly resonant tones of Jones singing Tennessee Waltz while Moloney, Martin Fay, Kevin Conneff, Matt Molloy, Derek Bell and Seán Keane set the Welsh singer's voice back in the Celtic soil, where it belongs. (read more)