Vibraciones
It was released from October 1974 to March 1982, with 90 issues in total. The first issue was dedicated to Frank Zappa. Director: Ángel Casas. Par excellence musical magazine of the seventies. Wonderful mag where gathering Murillo, Manrique, Juliá, Llopis & many more journalists related with the underground. All articles were excellent & fabulous illustrated reports of concerts, and don't forget the special issues.
Later became
Rock Espezial
and in the middle of eighties
Rock de Lux
. (J.Marcote)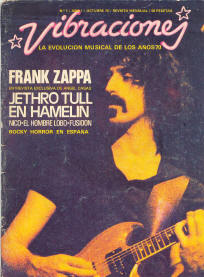 Vol. 1 No. 1
Madre Zappa
Interview by Ángel Casas, pp 58-61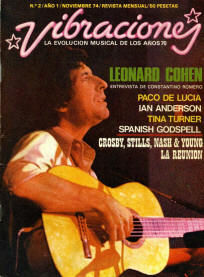 1974 November
Vol. 1 No. 2
Sorry, Mr. Zappa
By Ángel Casas, p 3

Zappa, un tio (Uncle Zappa)
By Lluis Crous, p 42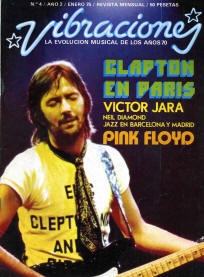 Vol. 2 No. 4
Frank Zappa "Apostrophe"
By J.M Pallardó, pp 49-50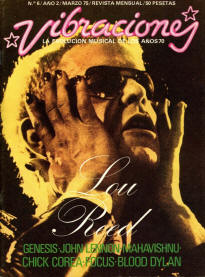 Vol. 2 No. 6
Frank Zappa "Roxy & Elsewhere"
By Marcelo Covian, p 48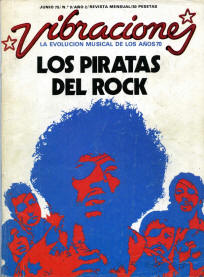 Vol. 2 No. 9
Zappa: Una madre comparece ante el juez (A mother appears before the judge)
By ?, p 23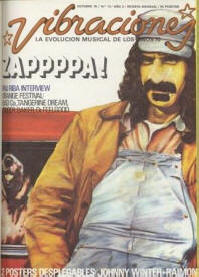 Vol. 2 No. 13
Zappppa!
8 pp in total, including MOI family tree ( thanks to Urban Gwerder) and articles:
La heterodoxia como actitud
By Claudi Montañà, 2 pp
San Francisco Vicente Zappa: Bufn, Farsante, Genio y Martir
By Diego A. Manrique, 3 pp
Cuando las lavadoras comen Hot-Dogs..."
Discography by Oriol Llopis, 2 pp
(Full texts of all 3 articles at El 3er Poder)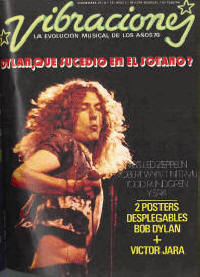 1975 November
Vol. 2 No. 14
Centaurus On The Rock
By Kim, pp 52-53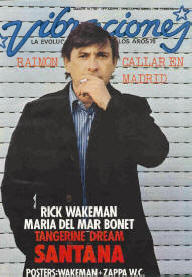 Vol. 3 No. 18
Mas Zappatistas que el Zappa
By Ángel Casas, p 13
---
On page 10 there is an ad-poster of the shows to be performed by FZ in 1976. Two shows on March 15th & 16th in Badalona ( Barcelona) and on 17th in Bilbao. Eventually these shows were cancelled due to the advice of Herb Cohen to FZ about their equipment related with the transportation strike happened and finished before to those dates in Spain.
On page 13 is an article "More Zappists than Zappa" by Ángel Casas, formerly editor of Vibraciones #1 remembering his concert in Badalona '74 and his expectations for these news shows considering all excellent musicians who had played with him, though missing Captain Beefheart in this tour.
Two posters were included with #18 and mentioned on the cover: Wakeman and Zappa W.C.
Source: Javier Marcote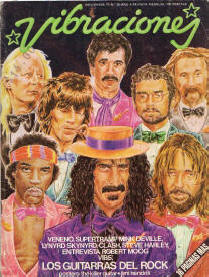 1977 November
Vol. 4 No. 38
Los Guitarras del Rock: Cuerda a cuerda
By Jaime Gonzalo & Julio Murillo, pp 34-48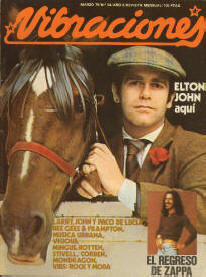 Vol. 6 No. 54
Zappa John
By Antonio de Miguel, pp 9-10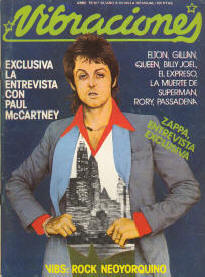 Vol. 6 No. 55
Los cuentos de la abuela
By Truc, pp 17-19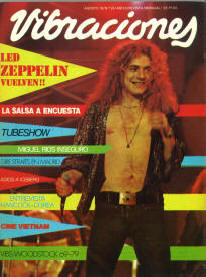 Vol. 6 No. 59
Los lloriqueos de la madre
By Julio Murillo, p 12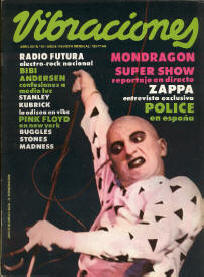 Vol. 8 No. 67
Mi droga es el sexo
By Juan Carlos Rubio, pp 20-23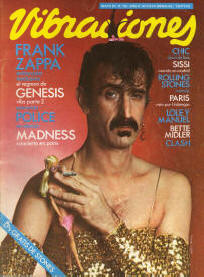 Vol. 8 No. 68
Los experimentos del gobierno americano con el LSD en San Francisco
By Juan Carlos Rubio, pp 56-59