Télérama
Télérama
is a weekly French cultural and TV magazine published in Paris, France. The name is a contraction of its earlier title:
Télévision-Radio-Cinéma
. Founded in 1947. (
wikipedia
)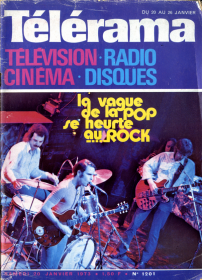 1973 January 20
No. 1201
Le vague de la Pop se heurte au Rock (The wave of Pop collides with Rock)
By Jacques Renouz, pp 6-9

---
... Y a-t-il d'autres voies ? Frank Zappa qui se réclame à la fois d'Edgar Varèse et d'Ornette Coleman va en ouvrir une avec les Mothers of Invention. De nouvelles aventures s'offrent à nous avec les apports de la musique contemporaine et du free-jazz. Zappa y ajoute une dérision insolente, salutaire et systématique tant à l'égard de la musique que de son propre public, les jeunes. ...
Automatic translation: Are there other ways? Frank Zappa who calls himself both Edgar Varèse and Ornette Coleman will open one with the Mothers of Invention. New adventures are offered to us with the contributions of contemporary music and free jazz. Zappa adds an insolent, salutary and systematic derision to it, both with regard to the music and to its own audience, the young people.
Source: Fulvio Fiore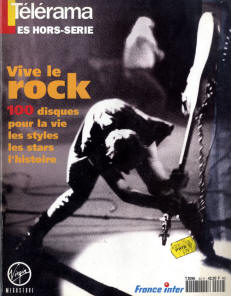 Special edition Vive le rock
No. 44
Les gars de la marrade (The guys from the bizarre)
By Philippe Blanchet, pp 92-94

Frank Zappa - Hot Rats
By Philippe Blanchet, p 94

---
Automatic translation: Frank Zappa embodies better than anyone this ambiguous profile of the eccentric for whom rock is too serious a thing not to laugh at. Unworthy son of Satie, degenerate brother of Stockhausen, this hirsute Groucho Marx guitarist has built in a little over a quarter of a century one of the most original (and also the most delirious) works that rock has ever had. (read more)
Source: Fulvio Fiore