Nye Takter
Nye Takter
(New Beats) was a Norwegian music newspaper that came out with its first issue in 1977. From 1978 the newspaper began to appear monthly. In contrast to the competitor
Puls
, which largely dealt with American music,
Nye Takter
turned primarily to Norwegian and European music. Since 1983
Nye Takter
was distributed by
Arbeiterbladet
as a fortnightly publication. In 1985
Nye Takter
changed to weekly supplement of
Arbeiterbladet
. In 1988
Nye Takter
was fully integrated into
Arbeiterbladet
as title of music pages.
Nye Takter
is today still the name of
Dagsavisen's
music pages.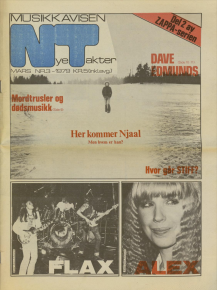 No. 3
Zappa del 2
"Project X" 1969-1970
By Jan Arne Handorff, pp 14-15

Frank Zappa. Sleep Dirt
By Jan Arne Handorff, p 20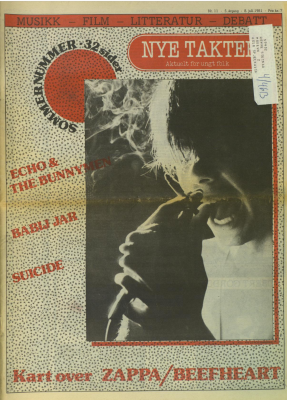 Vol. 5 No. 11