Music Now
British lesser known (in compare to
Melody Maker
,
NME
,
Sounds
) music weekly from the 70s. It started as
Top Pops
in May 1967. From issue #89 (September 1969) the paper started calling itself
Top Pops - Music Now
with emphasis on the latter. In March 1970 the paper underwent a full change to being titled
Music Now
. May 1971 was the final appearance of the paper. (
Dave McAleer
)
B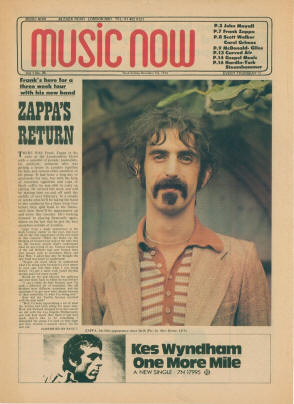 1970 December 5
Vol. 1 No. 38
Zappa's Return
By Dai Davies, pp 1, 7
---
THERE WAS Frank Zappa in his suite at the Londonderry Hotel with a roomful of people; journalists, his publicist, someone who was getting a house in London together for him, and various other members of his group. It had been a long day of interviews for him, but with the help of countless cigarettes and cups of black coffee he was able to carry on talking. He arrived last week and will be staying here on and off until the middle of next February. In a couple of weeks time he'll be taking the band to the continent for a three week tour before they split back to the States, until then there'll be appearances up and down this country. He's looking forward to playing Newcastle again, where on his last visit he got the best reception outside of London. (read more)
* * *
On the last page (opposite to cover page), under the 'Yakkety Yak' column, 2nd paragraph: "Last Sunday night, at the second show at the Coliseum, Stephen Stills jammed with Frank Zappa & the Mothers.."
This is the 1970 11 29 - The Coliseum, London, UK, Late show.
Source: slime.oofytv.set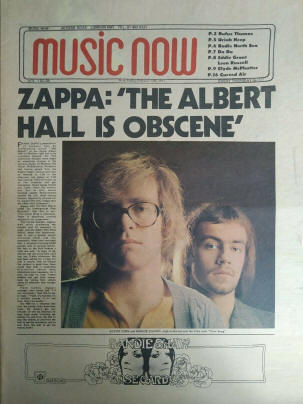 1971 February 1
Vol. 1 No. 48
Zappa: 'The Albert Hall Is Obscene'
By ?, p 1
---
FRANK ZAPPA's presentation of ecerpts from his forthcoming movie "200 Motels" at the Royal Albert Hall on Monday night had to be cancelled because the Hall authorities thought there might be something obscene in the content. (read more)
Source: ebay