Backstage
Trondheim-based bimonthly music magazine which was published 1999-2007. ISSN 1501-6269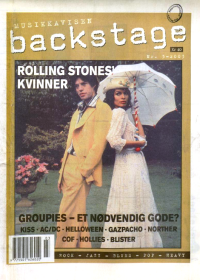 No. 3
Groupies - et nødvendig gode?
By Hugo Eriksen pp 4-5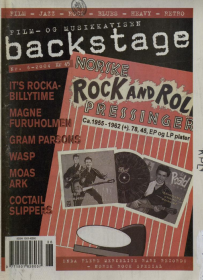 2004 December
No. 6
Tilbud - og etterspørsel
By Geir Levi Nilsen, p 8
---
In the article, among other things, the author talks about Zappa and Pink Floyd, whose situation changed drastically after the release of the albums Sheik Yerbouti and The Wall.
Automatic translation: ... But then it happened: Zappa released the hit record "Sheik Yerbouti", which became a number one here, into the VG lists and the whole package. Suddenly everyone started liking Zappa. Now Zappa was cool' "Bobby Brown" ended up as a record on the jukebox in the village cafe, and Zappa was suddenly one of the guys from the village festival. Soon after, "The Wall" came out of Pink Floyd and Floyd - who had been just a freak group - now became an acceptable pop group, a hit with everyone.
I don't think people are aware of what a paradigm shift these two records were for these two aforementioned artists. Today, people like to think that "everyone" liked Floyd and Zappa in the 1970s, but this is wrong! Floyd and Zappa were something extremely marginal that was not common property at all. If people don't believe this, then how could it be that the marginal Gateavisa could interview Frank Zappa in 1973, where Frank allowed himself to be photographed inside the magazine with their latest number in hand?"
Source: nb.no