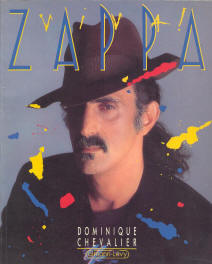 Viva Zappa
Un Alchimiste Delirant – Mode l'Emploi
Calmann-Levy, Paris


1985
ISBN 2-7021-1410-5
128 pp, paperback, 27 x 22 cm
French
---
Dominique Chevalier's Viva! Zappa is an interesting book written by a fan who has some good information on various band members and breakdowns and minireviews of each album. It is a very subjective work but one that approaches Zappa from a necessary European perspective due to his enormous popularity there.
A thin paperback, this book is designed with eclecticism in mind, mimicing that of Zappa. Chevalier is a Zappa-tista who chronicles his life from many different perspectives, including a short biography and a review of his albums. This book includes many pictures of Zappa and the Mothers of Invention, as well as album covers and other interesting visualizations.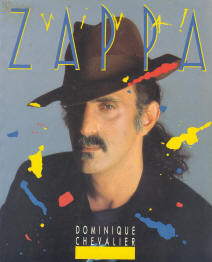 Viva Zappa

Omnibus Press, London


1986
ISBN 0-7119-0977-6
128 pp, paperback, 27 x 22 cm
English
---
This is an English translation by Matthew Screech.
You can find this book under two ISBN numbers but there was only one edition. On the impressum page is printed ISBN 0-7119-0821-4. The same ISBN number points to Raymond Horricks' book about Quicy Jones. On the back cover is correct ISBN 0-7119-0977-6.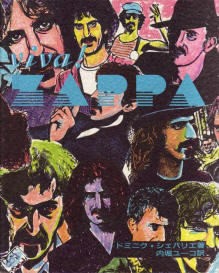 Viva Zappa
Byakuya Shobo Ltd., Tokyo


1988
ISBN –
168 pp, paperback, 27 x 22 cm
Japanese
---
Japanese translation of Viva Zappa by Uchibori Yuko. Added to the original content is chapter "Another Material", pp 129-168, containing detailed discography, videography and bibliography.
This book was the 2nd book in the limited edition (3000) box Zappa Vox, compiled by Yasuo Yagi.