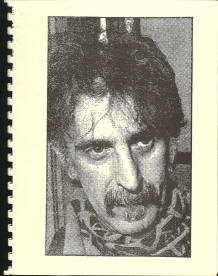 Zappa Book
Volume Three 1990-1996

Omni Press, Millbrae, CA


1996 (?)
ISBN _
384 pp, paperback, 28 x 21,5 cm
English
---
Zappa Book Volume Two 1980-1989
Zappa Book Volume Three 1990-1996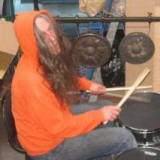 Peter Hinds
Peter Hinds compiled from press cuttings three collections titled Zappa Book V1 - V3.
Peter Hinds on Zappa Books (January 2010):
... those are books I put together in the late 80's and early 90's.
slime.oofytv.set on Zappa Books:
The books contains a mix of paper types all bound in the plastic loop/slotted page style; covers are heavy card stock, some of the inside pages are the same heavy board, included are glossy, regular bond, a few 2-color photocopies, single & double sided, some w/covers ... v3 has a few sections with double-length copies of discoveries folded into the book.
The immeasurable equation: the collected poetry and prose (p 1):
In the 1980's, Peter Hinds released a number of poetry booklets in small print runs of 200 to 300 copies from his Omni Press, as well as the excellent Sun Ra Research periodical and some Sun Ra Books.
sun ra research - hinds brothers @ united-mutations
The Strangest Secret and Sun Ra Research
Source: slime.oofytv.set