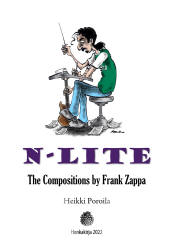 N-Lite - The Compositions by Frank Zappa

Honkakirja, Helsinki


2022 June
ISBN 978-952-69775-1-5
442 pp, paperback, 25 x 17,5 cm
English
---
This 450 page B5 size book is a catalog of every musical work that Frank Zappa created. It is based on previous books by Heikki Poroila - Frank Zappan sävellykset and Compositions by Frank Zappa.
Heikki Poroila:
The first edition was a handbook for Finnish speaking Zappa fans, the second one as a PDF publication tried to be the same for anybody reading and understanding at least some English. This third incarnation has been put together to celebrate the Zappanale 2022 and – of course – to update the original information (now the Zappa/Erie has been the last item noticed and studied). I have tried to compile a comprehensive and reliable overview of the musical output of Frank Zappa, not forgetting the enormous amount of "unofficial" and fictional titles the bootleggers and other creepy entrepreneurs have created during the past 50 years. As a fan of FZ's music I may find this bootleg fiction even funny sometimes, but as a music librarian I do not have any respect for these distributers of false, fake and usually also stupid information.
As we know, Frank Zappa never admitted to be wrong. Still, I know, he heavily underestimated the ability and desire of the music lovers all over the planet Earth to understand and appreciate the musical life work of Frank Zappa. I hope this catalog is one proof of the existence of that desire.
Links
Heikki Poroila @ Twitter
Marko Nakari (the book's illustrator)
Bookshops
The book is available in some of Finland's bookshops, but the easiest way to obtain it is to write directly to the author: heikki.poroila@gmail.com