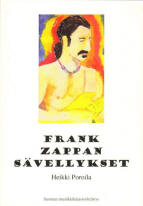 Frank Zappan sävellykset

Suomen musiikkikirjastoyhdistys, Helsinki


2015 September
ISBN 978-952‑5363‑78‑4
224 pp, paperback, 21 x 14 cm
Finnish
---
This book is in some sense a sequel to Heikki's previous book – Zappa äänitteillä (Recorded Zappa) – which contained overview of Zappa albums. This book – Frank Zappa's compositions – contains over 800 songs alphabetically listed, with comments on music, lyrics, performances.
Olen kirjastonhoitajana tottunut taidemusiikkisäveltäjien tuotannosta koottuihin teosluetteloihin, joten rupesin miettimään, olisiko jotain samantyyppistä mahdollista tehdä Zappan kanssa. Aika pitkään löysin vahvoja perusteita olla rupeamatta koko hommaan, mutta sitten alkoi näyttää, että vaikka netti on pullollaan erilaisia Zappa-diskografioita ja muita listauksia, kunnianhimoisempaa yritystä sävellystuotannon listaamiseksi ei löytynyt.
As a librarian I am accustomed to the production of art music composers in cumulative list of works, so I started to think about whether something similar can be done with Zappa. For a long time I found strong reasons to keep away from the hole thing. But then I saw, that web is full of Zappa discographies and other listings, but serious list of musical compositions was missing.
To buy a copy of this book, please contact the author directly – heikki.poroila@gmail.com.
Cover picture by Eevariitta Poroila.
"Frank Zappan sävellykset" - lehdistötiedote
Interview with Heikki Poroila
Translations of this book
English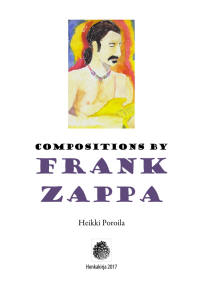 Compositions by Frank Zappa

Honkakirja


2017 October 28
ISBN 978-952-68711-2-7
315 pp, PDF, 29 x 21 cm
English
---
Compositions by Frank Zappa
Text by Heikki Poroila
Front cover painting by Eevariitta Poroila
All other drawings by Marko Nakari
Honkakirja ISBN 978-952-68711-2-7
Version: 1.0 (October 28, 2017)
Non-commercial use, copying, downloading, sharing and linking of this publication for free is fine as long as the author and source are mentioned.
The information needs to be free.
E-mail for contact & corrections info@heikkiporoila.fi.
Thanks for the The Finnish Library Foundation for economical support.
"Today's catalog compiler refuses to die."
Links
Source: Heikki Poroila