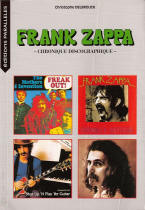 Frank Zappa - Chronique Discographique

Éditions Parallèles, Paris


1994 July
ISBN 2-9506502-5-2
272 pp, paperback, 22 x 16 cm
French
---
This book is not widely known, but who has it says, that it's among the best bios on Zappa.
PS : L'idée d'un livre sur Zappa me trottait dans la tête depuis longtemps (depuis l'école) et j'ai un souvenir précis du jour où ça a vraiment pris forme. C'était dans la salle d'attente pour l'examen médical du centre de recrutement de l'armée de terre à Bordeaux : j'ai griffonné au dos d'un papier la chronique du concert du Plastic Ono Band avec les Mothers au Fillmore. Finalement je suis devenu objecteur de conscience et la bio de Zappa est sortie 6 ou 7 ans plus tard. Il n'était pas prévu que Zappa meure entre temps bien sûr. Je me souviens de la conférence Zappa/Beefheart à Lyon avec Guy Cosson. Quelle pétoche ! On n'en menait pas large en coulisse.
(Google translation)
PS: The idea of a book on Zappa running through my mind for a long time (since school) and I have a specific recollection of the day when it really took shape. It was in the waiting room for medical examination of the recruitment center of the Army in Bordeaux: I scribbled on the back of a paper chronicles the Plastic Ono Band concert with the Mothers Fillmore. Eventually I became a conscientious objector and bio Zappa came out 6 or 7 years later. It was not intended that Zappa died in the meantime of course. I remember the conference Zappa / Beefheart in Lyon with Guy Cosson. What cold feet! It is also failing in the wings.
Christophe Delbrouck's home page
Review by Nicolas Gautherot @ Rockstyle
Amazon.fr comments
Arf.ru
Review in Juke Box Magazine
Source: Francesco Codeluppi