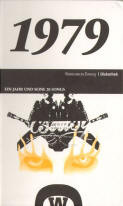 1979 - Ein Jahr und seine 20 Songs

Süddeutsche Zeitung GmbH, München


2005
ISBN 3-86615-079-2
82 pp, hardcover, 21 x 13,5 cm
German
---
German national newspaper Süddeutsche Zeitung published in 2005-2006 weekly a series of books called Diskothek, kind of a pop history covering years 1955-2004. Every book contains an essay by SZ journalist on one year, then a collection of original articles and photos from this year plus a compilation CD featuring the 20 characteristic/important songs of the year.
Zappa was featured in books 1968 and 1979.
This book (and CD) includes song Bobby Brown Goes Down and article on pp 57-58 on this song.
Bookshops