Frank's Wild Years
By Neil Slaven
---
After 25 years of unique musical anarchy and as many confrontational albums, Frank Zappa is facing his greatest adversary – prostate cancer. Undulled, he relates his diverse career of sophisticated subversion to Neil Slaven.
Since 1967, when the panel of BBC's Juke Box Jury were mystified by 'It Can't Happen Here' (a degenerate doo-wop ditty), Frank Zappa and his music have persistently defied categorisation. Comedian Groucho Marx once opined: "I refuse to join any club that would have me as a member!", and Zappa has acted likewise. His refusal to become part of the rock establishment has been bolstered by constant subversion and much else besides, all underpinned with savage wit and perception. A prophet without profit in his own country, in Britain and Europe Zappa remains music's seminal cult figure.
Zappa knows a lot about confrontation. Some fights he's gone looking for: others just came along. The latest battle, however, is also the toughest he has had to encounter: cancer. Nonetheless, despite the unwelcome news, the king of impossible chord structures has not slackened his prolific work schedule. The confrontation continues.
Those Mothers
In 1972 Frank Zappa made his position clear: "All I'm interested in doing is writing music that I want to hear. The music is available to anyone that wants to hear it." Fifteen years later he admitted: "I have a lot of different musical questions, and I'm looking for a lot of different musical answers. If the audience is similarly disposed, then they can take the course with me, because I'm learning stuff as I do these things." That can't begin to explain a rock'n'roll composer who's just as happy quoting from Stravinsky and Varèse as he is from Guitar Slim or The Penguins. By his own account, Zappa was composing serial music when he was 18, "writing all sorts of positive and negative canons and getting as mathematically spaced out as I could."
However, Frank had also grown up loving R&B and doo-wop vocal groups; he felt he was "stuck between the slide rule and the gutbucket". So he resolved to find a form of music that could reconcile the two extremes – and of course, the band that could play it. It was a only a matter of weeks after he joined The Soul Giants that Zappa renamed them The Mothers, but the name was too suggestive for corporate America, so his record company added 'Of Invention'. "They'd been in existence for maybe three months prior to the time that I came in as substitute guitar player. We played R&B/bar-band music."
The Mothers were signed to MGM Verve by Tom Wilson. Had the band been recommended to him, or did he see them by chance? "Well, it was under duress." is Zappa's reply. "Our manager Herb Cohen dragged him away from a girl that he had sitting on his lap at a Hollywood club down the street from where we were working at the Whisky-A-Go-Go. We have to be appreciative of Tom. He's passed away now but he was visionary. He signed the Velvet Underground and a number of other really obscure groups at that time. And we were just another of his obscure groups that he was producing."
"Guys like Reagan and Bush... no matter what they do, they can send out 'spin doctors' to clean up after they f*** up."
The second LP Absolutely Free had just been released when the group made its first trip to Europe and played the Royal Albert Hall. The most striking difference between the Mothers and other groups of the time was Zappa's overt indifference to his audience.
"I don't think that you can really ask for much more than that, unless you're one of those ass-licking pop performers that must always do a song that people enjoy in the traditional sense of enjoyment. If that's your job, then you really have to be a lot more pandering towards an audience. But if you're doing something – I hate to use the word 'experimental', but it was at the time – then you must take the attitude that the audience is part of the experiment, and they're not necessarily there to engage in the same sort of 'enjoyment exercise' that they would be getting from something on Top Of The Pops."
What were Zappa's initial impressions of Britain? "In 1967, Britain was quite a different place. I thought the atmosphere was pleasant; I thought that the attitude of the people on the street was positive. But on each successive visit, I saw Britain turning into a Third World country, much like our own here. People being depressed, getting meaner, getting more desperate and things getting more peculiar. The main thing that you feel when you arrive in London now is just a big ball of hatred that's not especially directed at anything."
Uniform Thought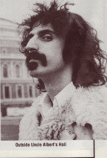 By the time he returned to England a year later, We're Only In It For The Money and Ruben And The Jets had been completed, and the band played the Royal Albert Hall a second time. 'That was the gig which yielded the line that's included in 'Burnt Weeny Sandwich'. When the attendant came on stage to eject someone, this guy in the audience shouted: 'Get that uniform off the stage, Frank!'. And I said: 'Everybody in this room is wearing a uniform and don't kid yourself'."
From the days of the original Mothers Of Invention line-up, through all the various touring bands, Zappa (like any fully-paid-up prophet) has been without honour in his own country, and is better-known in Europe than in many parts of America.
"I think the reason we're better known there is because, of all the US groups that could tour in Europe, we probably did it more frequently, on a regular basis throughout the years, than most of the others," he says. "We took the music right there and stuck it in their face. We played towns outside London, when the big groups would come over and just do the one big show. We went out and played for everybody,"
At the time, a lot was being made of 'psychedelia', of which The Mothers were deemed to be a part. Did he ever feel he was being misrepresented or that people were drawn to his music for the wrong reasons? "In certain places I'm sure they were. But unless you have a huge budget and a megalomaniacal orientation, there's no way for a person to control how they are perceived. The only people who can really make attempts at controlling that are guys like Reagan and Bush, who have an absolute stranglehold on the media.
"No matter what they do, they can send out 'spin doctors' to clean up after they fuck up. and put the Band-Aids on the history books. There's a difference between a publicist and a phone call from the White House. But you can't really control the way in which you are perceived – so why bother to try?"
A Bizarre Production
Zappa encountered problems with MGM Verve over royalties and pressing figures. To gain more control over his records, he and manager Herb Cohen set up Bizarre Productions, through which Cruisin' With Ruben And The Jets and a Zappa-compiled 'Best Of' set entitled Mothermania were released. "I filed a suit against them right around the time that the deal was up for renewal. There'd been a certain boost in sales right around that period with We're Only In It For The Money, which did a lot better than the first two albums. They didn't really want us to go, but their royalty statements were in the realm of science fiction. So anyway, by a stroke of luck (namely their failure to pick up the option) we were able to get out of that contract."
Bizarre Productions and Straight Records moved to Warner Bros. The first release under the new affiliation was the double album Uncle Meat. "When we did Uncle Meat, we had a 12-track Scully recorder, a humungous piece of furniture as big as my fireplace. What we tried to do was play all the individual lines in this orchestral score. We had two wind players, Ian Underwood and Bunk Gardner, who could read. So they would be playing those parts two at a time and we'd be stacking them and bouncing them together. It took days just to do a few seconds of music that way. But it was an experiment that needed to be done."
In the summer of 1969 Zappa disbanded the original Mothers, heavily in debt and still in dispute with his previous record company. But Duke Ellington also had a crucial effect on the decision: 'We were on this George Wein jazz tour of this East Coast, with Roland Kirk, Duke Ellington and Gary Burton. We were booked into a hall in South Carolina. Before we went on, I saw Duke Ellington, after all these years in the business, on the same tour with us, begging the road manager for a $10 advance. Swear to God. And the guy wouldn't give it to him. That's like a glimpse into your future."
There's a lot of nostalgia for that first band that Zappa doesn't share. "I think that, in an ideal way, the nostalgia is for the concept of the band rather than the music. And also for the fact that such a thing could exist as a touring musical entity in spite of everything else that was going on. You really have to put your mind back to what else was on the road at that time. It's quite unbelievable that a band like that could get work anywhere for a period of years. To a lot of people I think it represented a type of freedom that's involved in doing weird stuff lust because you feel like it and getting paid to do it."
That last Mothers band, including the late Lowell George, is not very well represented on record. "There wasn't that much live recording going on at that time. Today, you take it for granted that you can take a pocket cassette machine with you and bootleg yourself any place. But portable recording gear didn't exist, and if you were going to make a recording someplace, you really had to make some special arrangements. But you'll be delighted to know, it you're nostalgic for that sort of material, that there are some tapes in pretty good condition from the Columbia University gig in '69 and also from a place in Miami. There's Lowell George performing 'Here Lies Love', which was by Mr. Undertaker on the Music City label, and the B-side of 'WPLJ'. It's a minor key blues on which we did basically the same arrangement as the record. That's a pretty decent performance, so it'll probably be included on something."
The simple thought behind the album is that somebody manufactured a disease called AIDS. They were developing it as a weapon ...
Zappa on Thing-Fish
The significant event of that year was the recording of Hot Rats, which many of Zappa's British fans considered to be the best record he'd ever made. "Partly because it was useful to many British shop-owners. There was a time when I went over there, and every boutique you'd go into on the King's Road was playing Hot Rats in the background. It was the muzak of Boutique Row at the time."
Was it an opportunity to jam in the studio? "I don't like playing in the studio. I hate it. The real reason for Hot Rats was to do the overdubbing, because I don't think there'd been anything outside the early experiments of Les Paul where there was that much overdubbage applied to a piece of tape. We were using a primitive – maybe even a prototype – 16-track recorder, so it was the first time we could really pile on tracks. I think that album is more about overdubbing than it is about anything else."
One other event from that year not mentioned in The Real Frank Zappa Book was the Paris Actuelle Music Festival, a three-day event featuring a host of British bands including Soft Machine, The Nice and Caravan, as well as American avantgardists like Terry Riley, Art Ensemble of Chicago and Captain Beefheart. Zappa was hired as MC and occasional improviser. Because of the recent student riots on the Paris streets, the Festival actually took place in a muddy field near the Belgian town of Amougies, on a bitterly cold day that was permanently shrouded in fog. "It was that horrible. I think that the real reason I ended up going there in a cosmic sense was to finally wind up with Aynsley Dunbar in the band."
On May 15, 1970 Zappa premièred a new work under the auspices of a contemporary music event with Zubin Mehta and the Los Angeles Philharmonic Orchestra. 200 Motels was an organic group of songs about life on the road, which Zappa was planning to make into a film. Though truncated on the night by Mehta, the event and the piece were a success, and Zappa's next band grew out of a backstage meeting that right.
Road Rats
Just before the Mothers broke up, we'd worked some gig where The Turtles were the opening act. [1] We had a lot of laughs backstage with Howard Kaylan and Mark Volman, so it wasn't inconceivable that I could imagine going on the road with them. They had the 'road rat' mentality which you need in order to tour. No matter how good a player is, if he doesn't have that sense, he'll die out there. I've learned the hard way about a few guys that I thought could play the parts but they just weren't 'roadable'. They couldn't stand the pressure and the isolation and they cracked up and I had to send them home. I knew exactly how to survive in the world of hotels and motels. You just learn how to do it so that it's not a foreign experience."
The next two years were very successful, with sold-out concerts and at least one healthy-selling album, Live At The Fillmore East, June 1971. There was also the fiasco of the film version of 200 Motels, involving the services of the Royal Philharmonic Orchestra and director Tony Palmer: "He had a lot of problems during the making of the film. He was on the verge of a divorce, he had the 'flu and he seemed to be a fairly ill-tempered individual even on a good day.
"I don't want to be unkind to him, but on the production of the film he did two things which I will always remember. One: at the completion of principal photography, he demanded of the producer that his name be left off the credits for fear it would harm his career. The other thing was that my wife Gail happened to be walking by and overheard him threatening to erase all the master tapes if something wasn't done to his satisfaction. So it was not easy working with him. I had a certain amount of control over what got done, and it would have been quite a different movie if he hadn't refused to even go into the editing suite – I'd never edited video. It was like guerrilla warfare to put that film together."
The Royal Philharmonic were more than a little reluctant to perform the music, and matters didn't improve when it became obvious the score was quite demanding. "That's adding insult to injury," counters Zappa. "It's one thing to say: 'Oh, look at this weird guy and what does he want now?' Then suddenly they get a piece of paper that they can't really play and then you compound that with the fact that there was never enough rehearsal time to teach them how to play it.
"We shot the film in seven eight-hour days. That's 56 hours at a total cost of $679,000, which was cheap even in 1970. At the end of 56 hours only one third of the shooting script had been shot. In order to make any kind of story out of it at all, I had to invent the thing in the editing room. Then our bassist Jeff Simmons disappeared just before filming started. His girlfriend convinced him he should be a blues musician, that he was too heavy to be in the group. So, in order to replace him, we went through all kinds of weird shit and ended up with Martin Lickert, who was Ringo Starr's driver."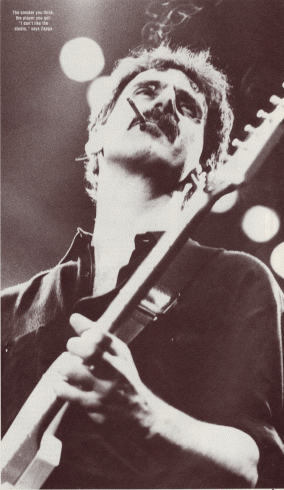 Nor was that the end of Zappa's troubles with 200 Motels. The score was to have been performed at the Royal Albert Hall but the date was cancelled on the grounds of obscenity. The resulting action brought by Zappa for breach of contract took four years to come to court. "It's not every day that a guy like me gets to go to the Old Bailey. Justice Mocatta was a unique individual; I'm sure that the Crown was proud of him for what he did. He agreed that the contract had been breached. He agreed that the show was not obscene. But basically, they were royal and I wasn't and there was no way I was gonna win a lawsuit. So it was: 'Go fuck yourself'."
Broken Vows
At the end of a 1971 tour which had already seen the band's equipment destroyed by fire in Montreux, Zappa was further endeared to Britain when he was bundled from the Rainbow stage by a disgruntled fan. His leg was so badly broken that he was confined to a wheelchair for almost a year, putting paid to the Kaylan/Volman band, commemorated in another live album, Just Another Band From LA. But enforced absence from the road enabled Zappa to release a sequence of albums that balanced musical exploration with improvisation: some with the Mothers imprint, others under his own name. By 1978, the contract with Warner Bros was coming to an end and once more there were difficulties.
"I saw Duke Ellington, after all these years in the business, on the same tour with us, begging the road manager for a $10 advance. And the guy wouldn't give it to him."
"I owed them three or four albums, whatever it was. I had a deadline to deliver these things, and the fact of the matter was they were in the can. So I walked into their office and handed the master tapes to this girl about three months ahead of the deadline. And I'd spent the money out of my own bank account to make those albums." There was a slight problem here. Zappa wanted the recordings issued as a four-LP set entitled Läther (pronounced leather'). Warner Bros refused to pay for such a package, so Zappa claimed a breach of contract and went in search of a new deal. Mercury/Phonogram had produced test pressings before Warner Bros threatened to take legal proceedings, and in desperation Zappa took the pressings to KROQ radio in Pasadena and played them over the air, urging listeners to tape them.
As he explained to DJ Jerry Kay: "My future as a recording artist is dangling in mid-air." As fate would have it, Warner Bros did issue the material, albeit heavily censored and shoddily packaged, over the next two years. Zappa is still bitter about the experience: "Warner Bros were doing whatever they could to hurt my career. From my knowledge at that time, that company was probably more infested with white powder than just about any other in the business. They had artist relations people that would show up at concerts with suitcases full of drugs."
Bolivian Marching Powder
Despite regarding cigarettes as food, Zappa has always been against the use of drugs, especially cocaine, "I managed to avoid it. But I think the only reason that I did was because it was my band and so I could set standards because I was signing pay cheques. It was the only leverage that I had." As band leader Zappa has always exhibited total control over his players onstage, presumably because without this discipline the music won't happen correctly. "It won't happen at all," he retorts. "Musicians left to their own devices are incredibly lazy."
While Warner Bros. were leaking his product onto the market, Zappa signed with CBS. His first album for the new label turned out to be his biggest seller to date: "Before Sheik Yerbouti we were doing 50,000 to 70,000 units worldwide. Sheik Yerbouti sold 1.6 million worldwide. I don't know the figure for Hot Rats but it's nowhere near Yerbouti – maybe 400,000. It certainly didn't sell well at the time it came out. The only reason I know about Sheik Yerbouti is because somebody recited it to me one day, in kind of an astonished tone of voice, that a person such as myself should sell that many records of anything worldwide. The reason for that was 'Bobby Brown'. Somebody in Norway decided that they liked the song very much and kept playing it in discos, and it became a hit in Scandinavia, then it was a hit in Germany. It was a Top Ten record again in Germany just last year. I don't know why."
Call The Central Scrutinizer
After Sheik Yerbouti came the three parts of Joe's Garage, a complicated story that starts by ironically celebrating the rock'n'roll life before fantasising on a familiar Zappa theme – the insidious suppression of music by officialdom. "That's also sold well, probably up around a million. The review in Downbeat was so unfavourable towards it, and especially 'Watermelon In Easter Hay'. The reviewer just hated that song."
You Are What You Is, Zappa's most coherent and tightly controlled production of the time, was similarly condemned: "That was reviewed in the United States by People magazine as the worst album of the year. Remember, in 1981 Reagan had just taken office, and TV evangelists were running rampant. They had put him in office, actually, so anybody who dared to say anything against them or the type of government that we were beginning to be dealt at the time was an enemy of the state and they did everything they could to bury that album."
During the '80s, Zappa's songs once again became aimed at clearly-identified targets with much greater political motivation, "Thereby giving them a far shorter shelf-life. The classic example would be 'Broadway The Hard Way', which was specifically about the 1988 Presidential election." Not to mention the highly publicised downfall of several TV evangelists. "Swaggart got caught with yet another prostitute. It happened just as the Make A Jazz Noise Here CD was released, and in that there are some of the leftover 'Swaggart' versions of songs. How timely can you be?"
Is there a ratio in his performances between entertainment and imparting what he considers pertinent information to the audience? "I would say it's 50-50. I think that on those occasions when the material has an idea in it that could be construed as something educational, then you want to present it in a way that's got the most appropriate setting to get the educational data across, so that it's not a punitive experience. Otherwise they'll just stop listening. But the idea of sugar-coating anything certainly stops at the point where I do instrumental music. Then it's like it or lump it."
One of Zappa's particular bêtes noires is the AIDS epidemic, dealt with in Thing-Fish. "The simple thought behind the album is that somebody manufactured a disease called AIDS. They were developing it as a weapon and they tested it on convicts, the same way as they used to give syphilis to black inmates in US prisons. That's documented, that's fact. So we take it one step further and they're concocting this special disease which is genetically specific to get rid of all 'highly rhythmic individuals and sissy boys'. So I postulate that they do this test in a prison, and part of the test backfires, and these mutants are created. I could show you a book which has an extract from the 1971 or 1972 Congressional Record, where a man is asking the Congress for money to develop a biological weapon that would be genetically specific. This is not fiction."
Thing-Fish is also notable as the first artefact on which Zappa airs the Synclavier, his preferred compositional accessory. Albums such as Francesco Zappa and Jazz From Hell were completely realised using the system. So has he finally dispensed with other musicians? "No, not really. Since I bought the Synclavier, I've hired musicians and I did a tour in 1988. I've lived to regret it."
"The idea of sugar coating anything certainly stops at the point where I do instrumental music. Then it's like it or lump it."
You Can't Do That On Stage Anymore, an intended series of six double-CD sets, is currently two-thirds complete. What are the criteria for choosing the tracks in each compilation? "First of all, the tape must exist, and there has to be something on the tape that would be of interest to somebody who already likes the rest of the stuff. Those CDs are not something I would recommend for a first-time listener, because the real charm of them is in comparing the different live versions to things that have been on albums. And comparing different versions from different years with different bands. And to get the sensation when one band from one year is edited right into another band from another year. It's a kind of Twilight Zone-ish experience.
Finally, does he envisage doing live gigs again? "Well, obviously I've got a problem with my health now, so I have to factor all that in there. This year, I intend being at the performances in Europe of this new piece that I'm writing for the Ensemble Modern (a German chamber group). There are three concerts planned for September, and that's about as close as I've planned on."
---
Zapp The System
Parental misguidance
The Parents Music Resource Centre (PMRC) is an august pressure group composed of senators' wives, whose express purpose is to muzzle or at least victimise any rock musician with the temerity to use colourful language or suggest sexual conduct in their lyrics. Zappa spoke against these self-appointed guardians of American childhood before a Senate Committee.
"They couldn't have been as effective if it wasn't for the fact that they have the complete backing of the sitting administration. With fascist regimes like we've had for the last few seasons, the ability to clamp down on speech and ideas is something that works in concert with their ideology. It's useful to have a system by which any dissent can be controlled, especially under the guise of saving the children. The government wants to keep the people stupid, because it's only a totally docile and uninformed public that will be willing to buy into the philosophy that [government] thrives on."
Education breakdown
The breakdown in education on both sides of the Atlantic is another thorny issue. "In the United States, intelligence has never been something that the average person respected or aspired to. If you behave as if you know anything, the person standing next to you will either feel threatened or resent you because you possess knowledge that he or she doesn't. And they will then take retaliatory action against you. So it's better to be dumb: that way you'll have more friends and your social life is a lot easier. It's self-imposed brainwashing. Anything out of the ordinary is threatening to them. They progress from moment to moment in a world of norms. It's like knowing all the passwords to get you through the day, and television reinforces that further."
The problems of excellence
"You know what's wrong with excellence? It costs money and not everybody can do it. If you find somebody who can, he's gonna want something for doing it. So it's better not to hire him, because he'll create trouble in the workplace. There is no government mandate that every manufacturer should have a certain number of people that are excellent. You must have a certain number of people of a certain colour and a certain sex, but none of them must be excellent."
Politics, American style
"The damage that has been done to this country since Reagan took office... actually, the shit hit the fan with Richard Nixon. It's been truly a downhill slide since Nixon, the first major Imperial presidency. And then Reagan and now Bush, this pitiful, ignorant... it just makes my flesh crawl to think of what he's doing in the White House." So does Frank still intend to run for the Presidency?
"Absolutely. It's health-dependent. The deadline for making the decision is May 1992, but if Cuomo gets in the race I think I'll back him. Not that he's a saint or an angel or anything, but at least he's smart and Bush is not."
Of course, it's in the interest of Washington people who are aware of Zappa's views not to let him have a public forum. "I think they've effectively managed to do that. You don't hear my music on the radio in the United States, and the only time you see me on television is if they report that I'm sick or they call me up for a comment if there's another PMRC outbreak. One of the things that's most disturbing about contemporary American culture is all of these pseudo-diversions that are fed to the public by our television. Especially to the youth market, to make them totally numb to any possibility that the real world consists of people whose job it is to keep the dumbbells under control. Give them a lot of soft drinks, a little more sugar. The right kind of drugs will appear in the marketplace from time to time and it's like a personnel management scheme."
Czech mate, Václav
What happened to Czechoslovakian President Václav Havel's wish that Zappa become the country's representative for culture, trade and tourism?
"That was scuffled by James Baker. He was on his way to Moscow and took a side trip to Prague. I can't prove this, but two people have told me that they saw the meeting and they heard what he said. One of them almost did a television interview. From the day that the guy told me what had happened to the next day when I got the crew, somebody had gotten hold of him and he refused to talk when the camera crew was there. He absolutely verified that pressure was applied to the Czech government for them not to do business with me."
Do these tentative steps into the political arena indicate a wish to dispense with music? "No. Actually what I'd really like to do is to just continue to make orchestral music and chamber music. That's really what I'd like to do. It's what I always like to do. It's what I started off doing, before I even did rock'n'roll. That's basically what I'm working on now, the same kind of stuff. I'd say I'd been really quite fortunate because I control my own company. There's been little or no interference since the Verve days in the content of the albums. I write whatever I want, perform whatever I want and release it. And if it doesn't sell, it's my fault."
Art's Dark Age
"There's a whole contingent of the Republican Party that spends every waking hour denigrating the concept of art, period. Anybody involved with anything that is art is subversive. The people use the fact that the photographer Robert Mapplethorpe got $45,000 from the National Endowment For The Arts (NEA), to stop all funding for it. The total yearly budget for the NEA is $175 million, out of which Mapplethorpe got $45,000. That kind of money is approximately two sets of tyres for a B-2 bomber. It's pitiful. These guys talk as if by cutting off the NEA, we'll really help to balance the budget and we'll put these smut-mongers out of business.
"The bulk of the money that the NEA spends every year is not for Mapplethorpe's photographs of guys with whips sticking up their buttholes. It's for things like community orchestras, local ballet companies and shit like that where people can participate. But nobody realises it. They just cut the educational budget in California. Naturally, one of the first things to go was music education, where it still existed. The specific circumstances of the American and British educational systems are all because of that little golf cart that Thatcher and Reagan drove around in. It's 52 percent illiteracy here in the United States by the latest estimate. When you figure that this number is arrived at by averaging things out, it means that in some places the literacy rate is near total, in other places it's nine percent or two percent. Hollywood is probably on the lower end of the scale."
Are we heading for another Dark Age?
"We're in it. It began when Reagan took office. Swear to God. Listen to the Tinseltown Rebellion album, which came out right before he went in. Because it's right in the song 'The Blue Light'. Just check out the words. I say: "Death Valley days straight ahead..."
---
1. C. Ulrich: "Memorial Hall, Muhlenberg College, Allentown, Pennsylvania, April 26, 1969. FZ's characterization of The Turtles as 'the opening act' is misleading. According to attendee Peter Meza".

Read by OCR software. If you spot errors, let me know afka (at) afka.net