Ryboun
The Thing-Fish libretto in Czech
1986 / 2022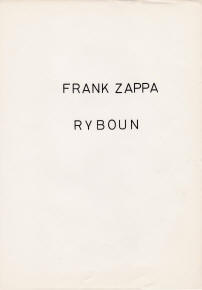 Translators' Preface

Automatic translation: Once upon a time, it was 1984, and that was a really juicy year for Frank Zappa fans.
This year, in addition to the titles "Boulez Conducts Zappa The Perfect Stranger", "Them Or Us" and "Francesco Zappa", our Frank released a fourth title, the extensive opus "Thing Fish", whose title we translate into Czech as "Ryboun".
It was quite obvious that this work, which in its character deviates considerably from Frank's previous work, is to a significant extent based on a very interesting text. And our small group of translators spontaneously decided in 1986 to translate the text of the libretto of this triple album into the mother tongue. We managed to do this after considerable effort, a series of consultations with linguists and an expert on American English.
After 36 long years, we are now providing our translation in the form of a set of scans of the original transcription made on the then only possible typewriter to the members of the Czech Frank Zappa fan club and other interested parties in the firm belief that it will be properly treated in the hands of the owners. This mainly means that they will strictly adhere to the rules see Notice" below.

NOTICE! THE FOLLOWING TEXT IS INTENDED FOR MEMBERS OF THE CZECH FRANK ZAPPA FAN CLUB AND OTHER INTERESTED PARTIES FOR THEIR PERSONAL USE ONLY. ANY CHANGES OR MODIFICATIONS OF THE TEXT ARE PROHIBITED.
Frank Zappa Fan Club. Czechoslovakia. 1986. Stapled. 30 x 21 cm. 62 pages.
Source: Václav Pěnkava