Schaefer Music Festival 1968
---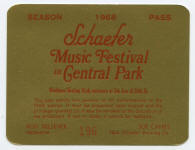 This is an original (printed before the concerts) tri-folded handbill / schedule advertising a series of concerts at the Schaefer Music Festival In Central Park at the Wollman Skating Rink and a special numbered Season Pass.
The handbill / schedule is a 7 1/2 x 4 inch stiff paper card that is machine-folded in thirds. Closed it measures 2 1/2 x 4 inches. The Season Pass measures 3 1/4 x 2 7/8 inches and is printed red on gold metallic card stock. These were never available for sale. The Season Passes were given only to very special VIPS so it is ultra rare!
The Schaefer Music Festival, for those that did not grow up in New York, was the premier series of summer concerts. The series began as the Rheingold Music Festival for the first few years, then Schaefer took over as sponsor and finally Dr. Pepper until the festival was moved to Pier 84 on the west side of New York due to noise complaints from the rich folks that lived on the edge of Central Park.
This listing is for the 1968 Season of the Schaefer Music Festival In Central Park.
Here's the full schedule as listed...
Count Basie & his Orchestra / Joe Williams - June 27, 1968
Moby Grape / Muddy Waters - June 29
Mongo Santamaría / Hugh Masekela - July 1
Mitch Ryder Show - July 3
Sarah Vaughan / Herbie Mann - July 5
Nina Simone / People's Choice - July 6
Ray Charles & his Orchestra with the Raelettes - July 8
Ramsey Lewis Trio / João Gilberto - July 10
Pete Seeger / Len Chandler - July 12
Sergio Mendes & Brasil '66 / Montego Joe - July 13
Don Ellis & his Orchestra / Kenny Burrell / Chico Hamilton - July 15
Ali Akbar Kahn - July 17 & 19 & 21
Phil Ochs / Jim & Jean - July 20
Janis Ian / Rosko - July 22
Vanilla Fudge / Ultimate Spinach - July 24
Richie Havens - July 26
Duke Ellington & His Orchestra / Les McCann - July 27
Ali Akbar Kahn - July 28
The Fifth Dimension - July 29
Fats Domino / B. B. King - July 31
Young-Holt United / Arthur Prysock - August 2
THE MOTHERS OF INVENTION / Buddy Guy - August 3
Lou Rawls / Joe Keyes - August 5
The Who / The Mandala - August 7
George Shearing - August 9
Flip Wilson / Anthony & The Imperials - August 10
Wes Montgomery / Gloria Lynne - August 12
Arlo Guthrie / Joni Mitchell - August 14
Tom Paxton / Patrick Sky - August 16
Little Richard / The Chambers Brothers - August 17
Traffic / Tim Buckley - August 19
Country Joe & The Fish / Eric Andersen - August 21
Judy Collins - August 23
Herbie Mann / Cal Tjader - August 24
Source: ebay