Words & Music
Monthly magazine issued 1971-1973 in New York by
Pauline Rivelli
after
Jazz & Pop
.
(In the end of '80s another
Words & Music
, "the magazine for songwriters and lyricists" was published. Today an eponymous
Words & Music
is issued quarterly in Canada by
SOCAN
.)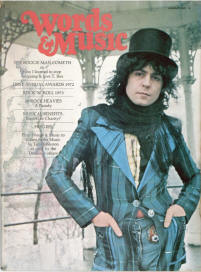 Vol. 3 No. 1
Let's Talk Clothes
By Dino Orlando, pp 70-74
---
Frank Zappa walked on stage of New York's Felt Forum in the same worn, baggy blue shirt he was wearing earlier that evening in his dressing room; and the same old jeans, ripped on one side over the shiny brace which he wears on his left leg as a result of his Rainbow Theatre accident in London. He wore no makeup, had not combed his hair or buttoned one more button on the shirt. I decided to interview him on his ideas about fashions.
"Fashions?" shouted Frank when I asked him after the show. "Man, you've got to be kidding!" (read more)
Source: slime.oofytv.set