Underground Digest
"The Best of the Underground Press." This bimonthly presented the best of regional publications, as well as original material.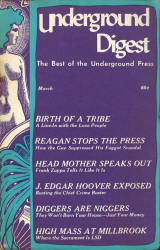 Vol. 1 No. 2
Head Mother Speaks Out
By Anna Maria Stramese, pp 29-33

---
This publication is copyrighted to 1967, but contains quotes from late 1967 and is actually a 1968 printing. Includes a 5-page Frank Zappa interview. Also in this issue "Notes Of A Dirty Old Man" by Charles Bukowski, R.Crumb comic strip, funny ads etc.
* * *
UNDERGROUND DIGEST: Have you found that, because of the music you're doing, you're being kept from working in clubs or concerts?
ZAPPA: As a matter of fact, we turn down a lot of jobs.
UNDERGROUND DIGEST: Is that mostly in New York?
ZAPPA: No, we get booking offers from all over. Most of them are on the East Coast. The West Coast, except for San Francisco, is pretty well dead. The cops have shut down just about every place you could work.
UNDERGROUND DIGEST: I would have thought the West Coast music was much freer and looser and more diversified than the East Coast.
ZAPPA: I'm sure the music itself is freer, looser and more diversified, but where're you going to play it? There's no place to work in L.A., unless you want to work some cheesy bar that's not going to pay much. (read more)
Source: slime.oofytv.set