Touch
Rare Canadian music magazine from 70s. Touch was published eight times a year.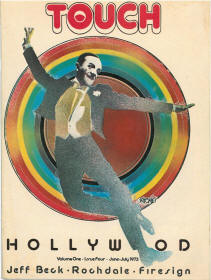 1973 June-July
Vol. 1 No. 4
---
On page 35: David Clayton Thomas and Frank Zappa jamming at Toronto's Nickelodeon with members of Kristofferson band.
slime.oofytv.set contacted the bass player Prakash John, who sent the following message and photo:
Yes that's me alright jamming with Zappa & David Clayton Thomas at the Nickelodeon (now the Hard Rock Cafe) in '73. Forgot all about that! Can't remember the drummer ... he was from a well known American band. That's not my bass ... probably belonged to the resident bassist.

I was at this series of gigs with my friend Ronnie Hawkins. A wider lens might have captured him side stage.

Thanks for the memory.

See also Pic ID
Source: slime.oofytv.set