Total Guitar
Total Guitar
is a monthly magazine in the UK. The magazine claims to be the best selling guitar magazine in Europe. The magazine regularly contains tablature to (mostly rock) songs, reviews of guitar equipment, interviews with various bands or guitarists and tuition tips for guitarists of various skill levels. The magazine also comes with a free CD in each issue that contains backing tracks and demonstration tracks to accompany the magazine's tablature. (
wikipedia
)
Currently published by Future plc with other guitar magazines like
Guitarist
,
Guitar Player
,
Guitar Techniques
,
Guitar World, Australian Guitar
and
Bass Player
.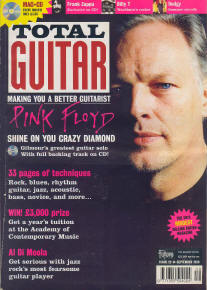 1996 September
Issue 22
Frank Zappa: The Re-Issues
The story behind Zappa's two greatest albums
Apostrophe & One Size Fits All
Tim Tucker, 2 pp

Free CD
Frank Zappa – San Ber'dino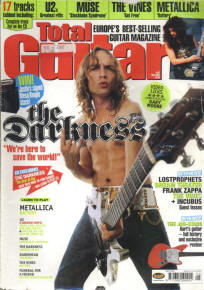 Issue 122
Rewind: Frank Zappa
By Steven Rosen, pp 76-79
Issue 238
The A-Z Of Prog Guitar
Z Zappa, Frank: Frankly Brilliant
p 56
---
"Frank would write music for me to play that just had no business being performed on a guitar," Steve Vai told TG of his years as Zappa's 'stunt guitarist'. Jumping from classical-inspired sound collages to extended jazz-fusion improvisations, this was a band who lived without rules, helmed by a songwriter who played without limits. Though the mustachioed one died of prostate cancer in 1993, his son Dweezil's Zappa Plays Zappa tribute tours bring that questing spirit back from the grave.
Source: Vitaly Zaremba