Time Out
This weekly London city guide and listings magazine began in 1968 as an alternative magazine alongside other members of the underground press in the UK, but by 1980 it abandoned its original collective decision making structure. By now its former radicalism has all but vanished. (
wikipedia
)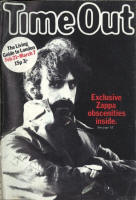 1971 February 21 - March 7
No. 15
'200 Albert Halls' or 'Penis Dimension Meets The Fathers of Convention'
By Ernie Eban & John Ralph., pp 17-22
---
Zappa: Armed and ready.
Ernie: Are you surprised?
Zappa: Yes because we've played here before.
Ernie: Are you especially surprised because you were going to do it with a so called respectable orchestra.
Zappa: Yeah I was surprised about that and I was also surprised at the conduct of the two trumpet players who quit. Did you know about that? (read more)
Source: slime.oofytv.set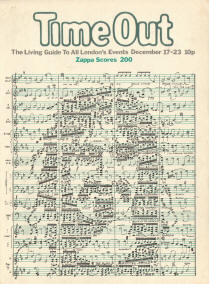 1971 December 17-23
Touring Can Make You Crazy
Interview by Ian Pollack, pp 34-37
---
I saw the movie about two weeks ago. I need to see it a few more times.
Well, that's a good attitude to take because some people make their judgements on one screening which I think is unfortunate because I think there's a lot in there.
I heard that it's already done pretty well in the States.
It's done fantastic in the States and is continuing to do so. They did a 14,000 dollar gross in three days in a 500 seat theatre in New York, 10,600 for three days in a 3,000 seat theatre in Toronto, and the places it's been running for the longest time, in Boston and Los Angeles, the business has improved each week. It's one of the top three selling films over there. (read more)