The Gazette
The Gazette
is a daily newspaper published in the American city of Cedar Rapids, Iowa. (
wikipedia
)

1977 September 26
Zappa Concert At Iowa City Promotes Album
By Jeff Moravec, p 11
---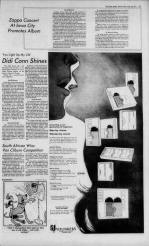 Kicking off his show with a tight rendition of "Peaches en Regalia", from his 1969 "Hot Rats" solo album, Frank Zappa's Iowa City performance Saturday night was distinguished only by his ability to alternately [excite] and bore his moderately large audience.
On the road to promote a new album, Zappa's second Iowa date of his tour was a clear indication of exactly what he is and isn't capable of doing.
Zappa, a veteran guitarist-composer-arranger and singer, is probably most well-known for the tight performances he draws from his band. This concert, at the University of Iowa Field House, didn't do anything to hurt that reputation, but the show's main problem was that it just didn't seem to go anywhere.
Zappa's songs are not of the three-minute radio variety; they stretch out into ten- and fifteen-minute tunes, but they usually end up doodling around without many peaks. Still, the instrumentation is virtually faultless and orchestrated well; this isn't jamming, but perhaps it should be.
Member of Band
There's no real focus on the stage, and from the audience's point of view, that's a problem. Zappa wouldn't be much without his band; he may write the songs, but he's content not as the center of attention, but as just another member of the band.
He occasionally struts about the stage, even leaning down to shake a few hands, but usually he remains unobtrusive and even inconspicuous as he sits down on a stool to concentrate on his guitar.
Members of Zappa's various bands have graduated into the big time, George Duke and Jean Luc-Ponty being two examples, and this current ensemble is also highly talented, and they seem ready to break out and really play. But that doesn't seem to be Zappa's intention.
Zappa's music is an amalgamation of styles: He blends jazz, rock, classical and other progressive strains into his final product. The result is an interesting concoction, but doesn't always hold up as well as it should.
No Warm-Up Group
The group played without a warm-up band, as is Zappa's preference, and it helped the show. Nothing can start a concert off worse than a poor back-up, and Point Blank reportedly did just that when they opened Zappa's show in Des Moines.
The concert consisted mainly of selections from Zappa's new album, a four-record set entitled "Lather". In a unique packaging move, sides two and four of that set are being released as a single record, for those who can't afford the high price tag of the total album.
---
See also "Zappa presents 'zircon-incrusted' concert season" on Des Moines concert, September 24, 1977.
Source: newspaperarchive.com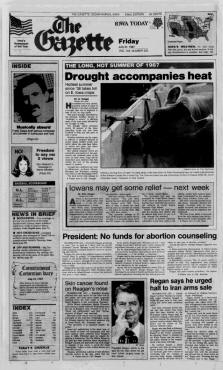 Vol. 105 No. 203
Master of the musically absurd
By Dee Ann Rexroat, pp 2C, 14C

Zappa not for the faint-heated
By Dee Ann Rexroat, pp 2C, 14C