Teen
Teen
lifestyle magazine published 1957-2009 (
wikipedia
)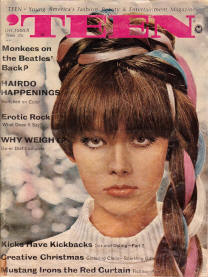 1966 December
Vol. 10 No. 12
My Fair & Frantic Hollywood
By Earl Leaf, 3 pp
---
MONDO MOD. The big cool now in this Baghdad on the Pacific are the Freak Outs, happenings which are a chop suey of Mardi Gras carnival, Beaux Arts ball, serenity frat initiation. Babylonian revel and New Year's Eve celebration. Goers wear their freakiest clads, junk jewelry, hairdos and makeup, with pop art designs painted on faces and bods. Anything resembling conventional Halloween costumes, however, is considered campy and too taboo.It began with release of an MGM two-disk album, "Freak Out!" by Frank Zappa and his Mothers of Invention. The Mothers are six bearded, long-haired musical maniacs who have to be seen (and heard) to be believed. Their first freak out filled Aerospace Hall beyond capacity, and hundreds were turned away. The next one filled Shrine Auditorium, one of L.A.'s largest. (read more)
"My Fair & Frantic Hollywood" column by legendary beatnik/bohemian photographer Earl Leaf appeared in Teen for many years.
Source: ebay
---
This is the new teenage rage in California. It began with release of an MGM two-disk album, "Freak Out!" by Frank Zappa and his Mothers of Invention. The Mothers are six bearded, long-haired musical maniacs who have to be seen (and heard) to be believed. Their first freak out filled Aerospace Hall beyond capacity, and hundreds were turned away. The next one filled Shrine Auditorium, one of L.A.'s largest.
(
read more
)
On page 47 is another photo of MOI and a short notice.
Source: slime.oofytv.set