Stereo
Stereo (ステレオ) is a monthly audiophile magazine published by Ongaku No Tomo Sha Corp. Launched in June 1963.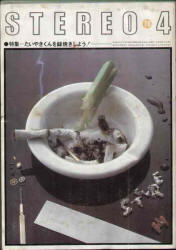 Vol. 14 No. 4
Hello Goodbye: Guest of the Month - Frank Zappa
By ?, pp 195-199

---
TAN Mitsugu:
In my humble opinion, this is one of the rarest interviews, since his attitude toward the interviewer was exceptionally friendly. Probably she (yes, it was done by a female reporter) was a very charming person. You can read the English translation here: www.ne.jp/asahi/studio/tan/zappa/197604_stereo.html.