Spex
Spex
was a prominent German rock and pop culture magazine, founded in 1980. Besides music news,
Spex
also covers literature, cinema, fashion and contemporary social trends. Since January 2008 was
Spex
headquartered in Berlin. Issue #384, January/February 2019, was the last printed issue. Thereafter is
Spex
only an online publication, which website includes all archived
Spex
issues. (
wikipedia
)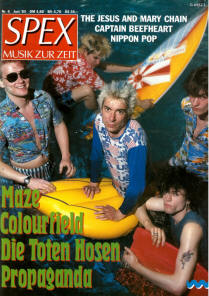 Issue 55
Von Captain Beefheart zu Don Van Vliet
By Diedrich Diederichsen, pp 18-19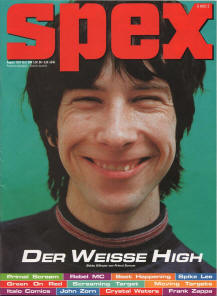 Issue 129
Klassik als Klassenhass
By Spex, pp 15-16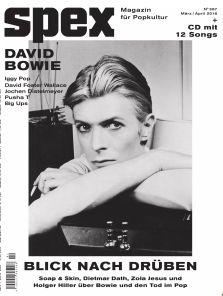 2016 March / April
Issue 367
Odyshape. Selten gehörte Musik.
By Joachim Ody, p 98
---
Automatic translation: And another homage with a result that is so completely different than expected. In the years 1968 to 1971, FRANK ZAPPA (3), a horror fright at the time, together with Tony Palmer, created the surrealistic film collage 200 Motels, in which the daily routine of the Mothers Of Invention touring is thematized in an anarchistic and parodistic manner – kaleidoscopically shattered sequences of images and psychedelic pop art-gimmicks included. Zappa actually wanted to create an orchestral score for it, but no one believed him to be great at the time, it stayed with the usual Zappa-esque gimmick. He first had to bless his time in order to be recognized as an electronic musician, which was reflected above all in the motley comic-like ensemble pieces that were brought to light from his fundus. The adaptation for large orchestra of his original score for 200 Motels (Universal), released by his descendants, takes exactly the same line, performed two years ago live at Disney Hall in Los Angeles with the Los Angeles Philharmonic under Esa-Pekka Salonen plus choir plus individual actors plus rock musicians was performed once. It has become – according to today's modalities – a humorous, musical-like affair, with a number of silly antics, many trivialities and one or the other aha effect. No, this pompous fuss does not go beyond the nostalgic framework. It's all very nice and dignified, but the freaky and cheeky just don't want to appear.