Sound International
Monthly magazine for professional musicians and recording engineers. Launched in April 1978 by Richard Elen. Ceased maybe in 1981.
---
Frank Zappa is a person who makes you wonder, is he out of step with the rest of the human race or is everyone else out of step with him? Whichever it is, he's unique. He's survived rock music's most turbulent years, remaining at almost total odds with the music business image of 'product'. Paradoxically he is one of rock music's most prolific writers/performers, with around 25 albums to his credit to date. That's counting double albums as singles (which much to Zappa's disgust is the way he claims he was paid for them) and not including compilations. He is in all likelihood the most respected musician among his peers. (read more)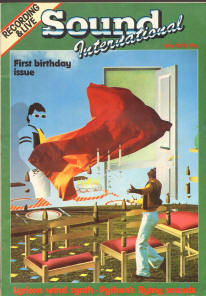 Issue 13
Just a Second Part from FZ (part II)
By Ralph Denyer, pp 22-25

Records Received
Sleep Dirt and Sheik Yerbouti reviews
p 72
---
Frank Zappa Sleep Dirt Discreet K59211 Must almost conclude the Discreet/WEA deal, and sounds like a man rooting round his tape cupboard. Which means some interesting stuff (the acoustic guitars of the title track, the instrumentation and voicing of Filthy Habits, the occasional string/fretless bass) and some dross (much of The Ocean Is The Ultimate Solution, the aimlessness of Regyplian Strut]. Basically a depressing record of what appears to be mostly out-takes.
Sheik Yerbouti CBS 88339 First for CBS, anolher Zappa double-live. Some of the lyrics worth a miss, but make sure you hear the Dylan takeoff in Flakes and read the inner-sleeve note to Rubber Shirt. Overdubs range from 'lots' to 'none', venues from (mainly) Hammersmith Odeon to the Deutschland Halle and the New York Palladium, and recording quality from excellent to very excellent. A mixed experience – try it.