Socialist Review
The Socialist Review is the monthly magazine of the British Socialist Workers Party.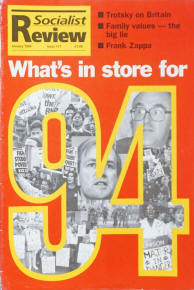 Issue 171
Frank Zappa: Spanner in the works
By Ben Watson
---
It's always a depressing time when artists die, especially when they've been marginalised and ignored to the extent of Frank Zappa. Once someone is dead they can be safely praised, they are no longer a threat.
Writing in the Guardian Adam Sweeting declared that in his lifetime Zappa 'railed against America's corporate complacency and political lurch to the right and deplored racism and homophobia', while the Times claimed that the songs 'He's So Gay' and 'Jewish Princess' 'had their respective pressure groups apoplectic with rage'. Some people emphasise his run-ins with the evangelical right and the fundamentalists over censorship (which he bitterly opposed), while others stress his belief in private enterprise. (read more)
Source: marxists.org