Select
Select
was a United Kingdom music magazine of the 1990s which was particularly known for covering Britpop, a term coined in the magazine by Stuart Maconie. The magazine launched in mid 1990 and folded in late 2000, mirroring the rise and decline of the Britpop scene with which it became synonymous. (
wikipedia
)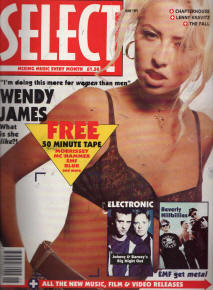 Dweezil Zappa: Confessions
By Neil Perry, p 83

Frank Zappa: The Best Band You Never Heard In Your Life
By Neville Hadsley, p 83
---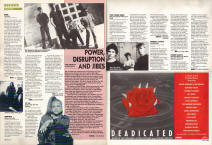 The easiest way to gauge Frank Zappa's outpourings is to see just how wacky the album is. A glance at the tracklist – 'I Left My Heart in San Francisco', 'When Irish Eyes Are Smiling', 'Theme From The Godfather', and 'Theme From Bonanza' – says it all, without a note being played.
Aural investigation of this latest double live LP produces severe tittering, particularly during 'When Irish Eyes Are Smiling'. There's more laughs with the ruthless Johnny Cash parody ('Ring Of Fire'), his deadpan, mechanical Hendrix ('Purple Haze') and what sounds like Ravel on mind-altering substances on the most bizarre 'Bolero' since Torvill & Dean.
Usual obsessions, like TV evangelists and redneck politicians, are more droll than funny and, at times, Zappa opts for safe levels of satire. Old tracks like 'Zoot Allures', 'Mr Green Genes', 'The Torture Never Stops' and the brilliant 'More Trouble Every Day' are full of Zappa's characteristic shrieking guitar atop jazzy/R&B grooves, and are almost worth an album of their own.
Then there's 'Stairway To Heaven' which, for all its faint reggae hit and Tom & Jerry ending, is played remarkably straight.
And that's the weirdest thing of all...
Source: selectmagazinescans.monkeon.co.uk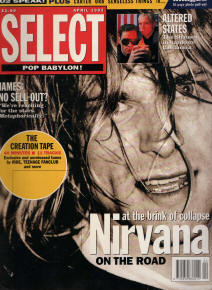 Frank Zappa And The Mothers Of Invention: Roxy And Elsewhere
By Dave Morrison, p 86
---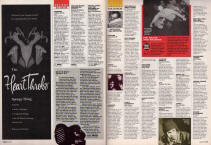 Frank Zappa has made a stack of live LPs and, qualitywise, 'Roxy And Eisewhere' sits in the middle: not as lewd as 'Fillmore East '71': not as crass as 'Zappa in New York': not as inspired as the Beefheart co-venture. 'Bongo Fury'.
Well out of his ground-breaking experimental phase by this time, he was as well known for his puerile humour as for his invention. Zappa's sharply funny in places but the laboured 'doper' routine on 'Dummy Up' and the audience participation on 'Be Bop Tango' overstay their welcome. The highpoint is the 15-minute segment of 'Echidna's Art (Of You)'/'Don't You Ever Wash That Thing'. A dizzy instrumental, it leaps from staccato passages to farty jazz trombone to torrents of percussion.
Overall. 'Roxy And Elsewhere' is impressive in a detached way. The only track with any passion whatsoever is the concise, soulful 'Village Of The Sun'.
Source: selectmagazinescans.monkeon.co.uk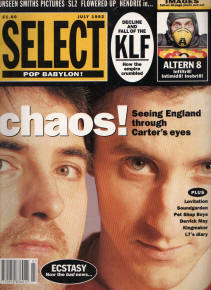 Frank Zappa:
The Perfect Stranger
The Music Of Francesco Zappa
By Andrew Collis, p 86
---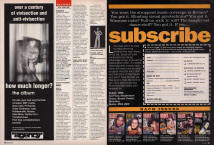 To his legions of fanatical admirers. Frank Zappa is not only one at the great musical talents of all time and the world's finest living guitarist, but also the best president America never had. A Zappa fan, let it be noted, is a fan indeed.
Never did Frank test that loyalty more than during his lengthy excursion into classical music. He had always insisted that actual composition was more important than any amount of tortured guitar solos. With these two instrumental LPs Zappa set out to prove that he was as useful with a baton as he was with a whammy bar.
In actuality it's Pierre Boulez who mounts the conductors rostrum for 'Perfect Stranger', where Zappa's compositional aspirations are given full rein. Although the results are consistently competent they are frequently less than entirely exhilarating.
More successful is the 'Francesco Zappa' LP on which the works of the little known 18th century composer are performed by the Barking Pumpkin Digital Gratification Consort with his modern day namesake conducting. Fortunately, any lingering suspicions that the listener is a victim of some elaborate wind-up does not render thighslappers like 'Opus 1. No 4. 2nd Movement' any less pleasant.
Source: selectmagazinescans.monkeon.co.uk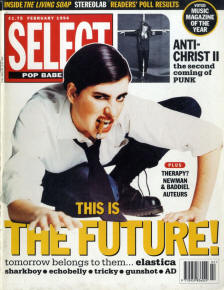 1994 February
Frank Zappa 1940-1993
By David Cavanagh, 1 p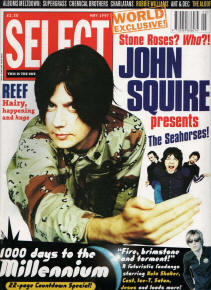 Frank Zappa: Have I Offended Someone?
By Jim Wirth, p 109
---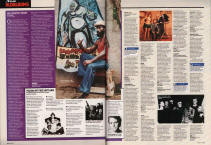 The argument for this CD's existence is that Zappa spent much of his later years battling the forces of censorship in the United States. These, then, are Zappa's greatest blows against the evil empire – basically, all the offensive songs. Thus we hear Zappa having a good old outrageous laugh at gays, Jews, feminists, hippies, the French, punks and a variety of other such easy targets.
The deeply pretentious sleevenotes cannot mask the fact that this is a Macc Lads album for musos. What you end up with is an hour or so of twitchy, ponytail funk with plenty of mean-spirited jibes alongside the odd acute observation – his satire on the Woodstock veterans of 'We're Turning Again' with its sardonic refrain of 'Jimi come back' is a classic of sorts. As The People Vs Larry Flint will demonstrate, the defenders of the American right of free speech are not always an entirely savoury bunch. Some kind of respect is due, but in pop terms, banning this drivel might actually have done us all a favour. In the pit with this filthy drivel.
Source: selectmagazinescans.monkeon.co.uk