Song Hits
Hit Parader
's publisher Charlton, located in tiny Derby, Connecticut, was a true music-mag empire. They put out numerous popular titles, including
Country Song Round-Up
,
Song Hits
, and
Smash Hits
. (
Cbub
)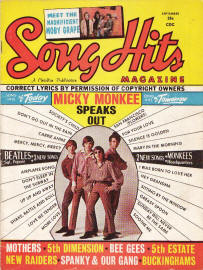 1967 September
Vol. 31 No. 20
Mother Of Two Runs Off With Uncle Meat
1 pp
Full page Hagstrom guitars ad
---
The most amazing, outrageous and ambitious rock and roll group anywhere in the universe is the Mothers. Their music, best appreciated in-person, combines today's pop sounds with symphonic music, satire, the primitive rock and roll songs of the 1950's, and social commentary, and you can even dance to it.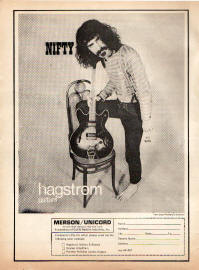 The Mothers were organized by Frank Zappa, an ex-advertising man who had been writing songs since he was fourteen and had experimented with abstract music. Using motivational research principles, Frank created a group unlike anything the world had ever seen. For one thing, they weren't seeking a "hit" record.
After convincing some rhythm and blues musicians he knew to become the Mothers and embark on a new musical venture, Frank and his friends starved for ten months. But gradually people came to see the weird new group that insulted the audience and did songs no one had ever heard before. (read more)