Bay Guardian
The
San Francisco Bay Guardian
(also known as the
SF Bay Guardian
,
Bay Guardian
, and the
Guardian
) is a free alternative newspaper published weekly in San Francisco, California. (
wikipedia
)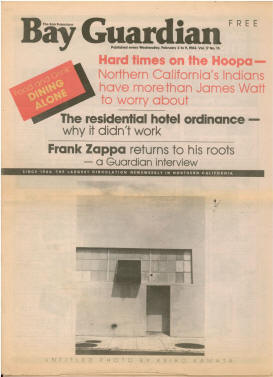 1983 February 2-9
Vol 17 No 15
Frank Zappa's not only in it for the money
By Derk Richardson, pp 29-30
---
When the phone rang at midnight, shattering the chilly, drowsy silence, it was bound to be Frank Zappa. By my semiautomatic time-zone calculation, it was 3 am in New York City when I plugged in the tape recorder. Three nights had been idled away waiting for a call from the eccentric rock and roller, founder of the Mothers of Invention, promulgator of Valley Girlism and "serious music" composer. Hope that the interview would take place was just slipping away when suddenly, announced by the clamorous ring, Zappa was ready — ready to talk about his teenage idol, 20th century music composer Edgard Varèse.
Zappa is coming to the War Memorial Opera House next Wednesday, Feb. 9th, to conduct the San Francisco Contemporary Music Players in two works by Varèse. The program, a centennial celebration of the births of Varèse and Viennese composer Anton Webern, will also feature the Contemporary Music Players' cofounder, Jean-Louis LeRoux, conducting the Webern selections and additional pieces by Varèse. This is not only the first time Zappa will conduct a classical chamber ensemble, but, he said, "It'll be the first time I've conducted anything by anybody else." (read more)
Source: slime.oofytv.set