Rolling Stone
French
edition was first launched in 1988. The original idea was to have 60% of the content to be translated from US edition and 40% as original copy concerning French music and culture. The edition temporarily ceased and was relaunched in 2008.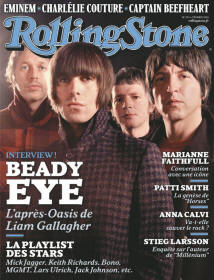 2011 February
No. 29
Capitaine abandonné
By Éric Tandy, pp 20-21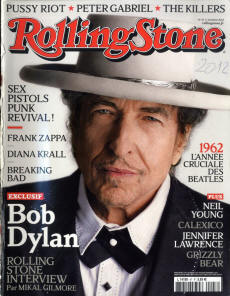 No. 47
Zones libres
By Joe Farmer, pp 68-73

---
Automatic translation: At a time when an agreement between Universal Music and The Zappa Family Trust is revitalizing the creative genius of the master by reissuing sixty essential albums until the end of 2012, a look back at a heritage that has remained an enigma in the history of American popular music. (read more)
Source: Fulvio Fiore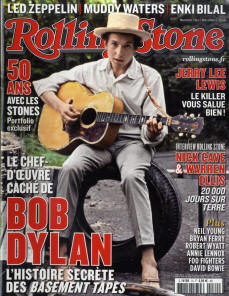 201

4

December
No. 70
Capitaine insensible
By Éric Tandy, pp 70-73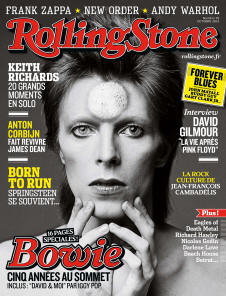 No. 78
One Size Fits All
By Kory Grow, pp 7-8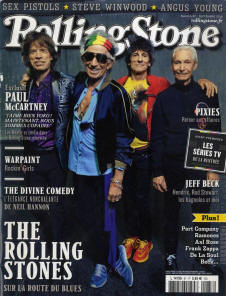 201

6

September
No. 87
Zappa contre Zappa
By David Browne, pp 16-17

---
Translation of the article from Rolling Stone, August 2016.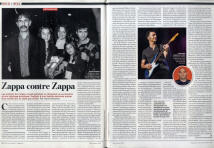 Source: Fulvio Fiore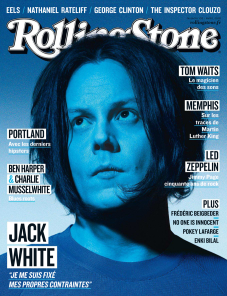 No. 103
Frank Zappa: Hot Rats (review)
By Thomas Grimaud, p 87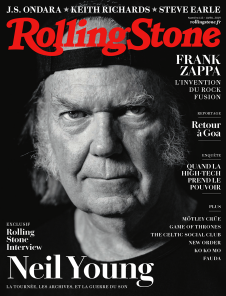 No. 113
Frank Zappa: Rats en fusion!
By Dominique Dupuis, pp 68-72

Frank Zappa In New York (review)
By Alain Gouvrion, p 78

The Guitar World According to Frank Zappa (short review)
By Sophie Rosemont, p 82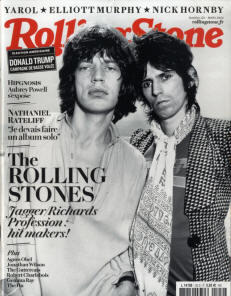 No. 122
Robert Charlebois: "Zappa, c'était délirant, autre chose que Philippe Katerine ..."
By Yves Bigot, pp 62-65

---
Robert Charlebois is a Canadian musician, composer and actor.
Automatic translation: [...] A unique relationship. My friend Michel Choquette told me that Frank Zappa liked my album on which there is 'Lindberg' and wanted to know me. I had just composed music for a Quebec erotic-comic film, Deux femmes en or, with an orchestra symphonic, which had the same effect on him as Sgt. Pepper's for me. He invited me to his home in Los Angeles when I returned from the filming of A genius, two associates, a bell by Sergio Leone. Dweezil was 2 years old, Frank got up at six in the morning to go downstairs to his 24-track studio, drank twenty coffees a day, never smoked a pot, didn't want to hear about drugs, but we laughed so much. We made up the Olympics of rock, with the longest guitar solo, the singer who shouts the loudest, the highest vocals, etc. What would we have achieved if he hadn't died? One day he came to see me in Montreal and I played Petroleum. He had his plane delayed, booked a studio, an engineer and a rhythm, and insisted on playing the guitar there. It looks damn good on my CV. " [...]
Source: Fulvio Fiore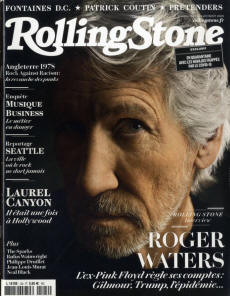 20

20

July/August
No. 124
Laurel Canyon. Il était une fois à Hollywood (Once upon a time in Hollywood)
By Yves Bigot, pp 66-73

---
This legendary and atypical neighborhood of Los Angeles was rediscovered by musicians in the 1960s and 1970s. Joni Mitchell, Graham Nash, Frank Zappa, Jim Morrison, John Mayall, Carole King, The Mamas and The Papas, Dusty Springfield, Brian Wilson, and many others have written some of rock 'n' roll 's most famous stories there.