Rockland
Short-living French monthly music magazine. Started in May 1988 and ceased presumably in Spring 1989.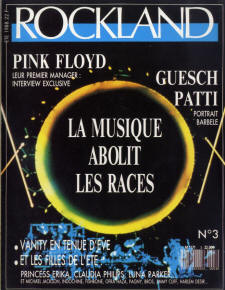 1988 Summer (July/August)
No. 3
Dweezil Zappa "My guitar wants to kill your mama ..."
By J.-L. G., 1 p

Uncle Meat
By ?

---


Automatic translation: With "Uncle Meat" (double CD, Musidisc), music for the film of the same name begins in 1968 and unfinished for lack of money, Franck Zappa continues, with his customary thoroughness, the great enterprise of releasing all of his music on CD. artwork. He is so picky that sometimes a piece is the result of several different recordings! "Uncle Meat" is a good example of his architectural vision of music: in each piece, another musician would find material to make ten. He goes from rock to contemporary or opera with astonishing ease and above all logic. This mixture of genres is not free or show off, it responds to the logic of the work. Musical humor (not to mention the texts ...), voices of sensual girls and Gallic jokes are in the generque. Hermetic until you get into it, Zappa's music requires careful, serious listening. Like a good rope that is a little difficult that one cannot appreciate while passing in front of the TV ...
Source: Fulvio Fiore