Rock Sound
Alternative rock music magazine, which first issue was published in September 1992. The magazine had a supplement titled
Rock Collector
.
Rock Sound
lasted in France until the end of 2007 (issue #160). In June 2011 the magazine appeared again as issues #1 and #2 of a bimonthly publication with austere cover and aligned with trendy rock. (
xsilence.net
)
Publisher Éditions Freeway launched the British edition of
Rock Sound
in March 1999. The Dutch edition was started in September 1998, but ceased after 9 numbers. The magazine was published in Italy under the name
Rock Sound Magazine
from May 1998 until 2010.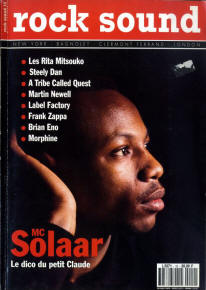 No. 10
Viva Zappa
By Christophe Goffette, pp 44-47

Frank Zappa. Discographie sélective
By Christophe Goffette, pp 48-51