POP-Revyen
POP-Revyen
or simply
PR (
Pop Revue) was a bi-weekly magazine started in Autumn 1966. This publication was aimed at a slightly older audience compared to competitor
Pop Nytt,
focusing not only on beat music but also on jazz and later also on psychedelic and progressive rock. Ceased in 1969. (
paulusalinge.com
)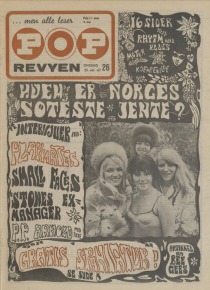 1967 October 25
No. 26
Monthers of Invention: genialit?
By Terje Mosnes, p 4
---
This is Absolutely Free album review.

Source: nb.no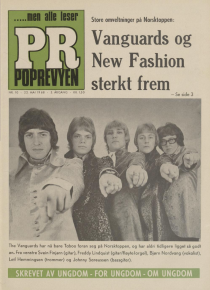 No. 10
Monthers of Invention elsker fred – men skaper bråk! (Mothers of Invention love peace - but create trouble!)
By [Stockholm edition], p 4
---

Source: nb.no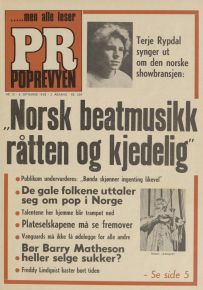 1968 September 5
No. 15
Mother of Invention med kjempeparodi på pop (Mothers of Invention with huge parody of pop)
By Terje Mosnes, pp 10, 14
---
We're Only In It For The Money album review.
Source: nb.no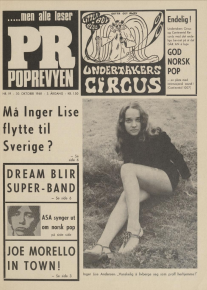 1968 October 30
No. 19
Meningsløs støy fra Frank Zappa (Meaningless noise from Frank Zappa)
By Terje Mosnes, p 3

Folk begynner å skjønne hva vi mener (People are beginning to understand what we mean)
Interview by R.S. [PR correspondent in New York], pp 4, 8