Planet Rock
Planet Rock was launched in May 2017 as a magazine spin-off of the Bauer Media Group owned radio station of the same name. The magazine was closed in September 2020 with the last issue #22.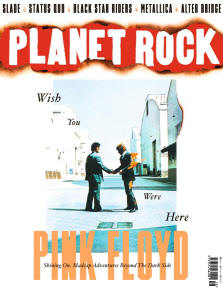 No. 16
My Planet Rocks
Frank Zappa: Inca Roads
By Steve Vai, p 75
---
One Size Fits All was another paradigm shift for me. Inca Roads was just the most fabulous piece of heaven I'd ever heard, it had everything that I was ever looking for in music. The guitar solo is one of the greatest guitar solos ever played by anyone, ever. To get to play with Frank was beyond a fantasy for me. When I was 16 I accidentally came across his phone number, and starting calling him ... and I was 18 before he actually picked up the phone. Luckily for me he was in a good mood! He has such a vast catalogue and it's full of brilliant music: every time he released aa new record it became part of my musical DNA.