Ongaku Senka
音楽専科


Ongaku Senka
can be translated as "specialized course in music". This monthly magazine was founded in 1967 (?) and discontinued in 1987. The eponymous publisher is still active with other music-related magazines:
www.ongakusenkasha.co.jp
. (TAN Mitsugu)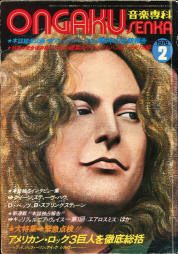 1976 February
Angel: Debut in Detroit
pp 22-23

Eagles & Frank Zappa & The Mothers Flying to Japan
By Imai Mikiharu & Fujimoto Hajime, pp 83-85

Event: Asakusa Saidai no Rock Show, Part 1
p 88

---
TAN Mitsugu:
Warner Pioneer ad for their new releases (including Bongo Fury as "an album that commemorates their forthcoming Japanese tour"), p. 219

This issue has two articles on FZ & the Mothers coming to Japan to appear in the Asakusa concert. But more importantly, it has the "full page photo of Punky Meadows" that inspired FZ to write Punky's Whips (p. 23). It's actually part of a two-page spread that introduces Angel as "an emerging act from Casablanca". By the way, it's no wonder that FZ called this magazine "ONGAKU", because the front cover has the word in bigger letters than the rest of the name. (Note: it was Oyama Kojitsu who found the photo in question appearing in this issue. He speculated that "ONGAKU" might be "Ongaku Senka" and that FZ got their latest issue during the Japanese tour. More details can be found in his book "Dai Zappa Ron 2".)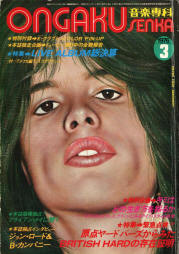 Marti-Media (sic) Monster Frank Zappa (at Asakusa Kokusai, 1st. Feb. '76)
pp 24-25

Secret Report
By Armando Gallo, pp 88

California Voice (#2) Frank Zappa
By Armando Gallo, pp 108-112

---
TAN Mitsugu:
Probably due to the time constraints, this issue only had a quick report on FZ's recent concert in Tokyo, with Armando Gallo's interview that had been done in LA before the winter '76 tour. The photos that accompanied the interview were shot during the concert at the Forum in Inglewood, CA on Dec. 31, 1975. (In the photo on p. 110, you can see several members of the L.A. Knockers Dance Troupe carrying huge "visual aids".)

Gallo also wrote a very short review of the concert on p. 88, stating that the audience got wildly excited at the New Year celebration with dancers holding colorful balloons and feathers, and a giant baby doll that symbolized the beginning of 1976.

Interestingly, this issue has an advertisement of Angel's first album (p. 49), which utilized the same publicity photos that appeared on the previous issue.

Here's an excerpt from the interview:
-----------------------------------------------------------
(This interview took place in the office of his studio, which was filled with a huge collection of tapes from live concerts....)

Gallo: [Pointing to the tapes in the shelf] I suppose you listen to these tapes quite often. Do you listen to them to improve yourself?

FZ: I listen to these tapes to see if I can find something good enough to make it on to our albums. I'm always adding new stuff to prepare a 10-record set.

Gallo: Is that the much-rumored 10-record set?

FZ: Yes, the "MUCH-RUMORED" 10-record set. It's true. So I'm always updating the set whenever I find better material from our latest recordings.

Gallo: When will it be finished?

FZ: All of the tapes are ready to go. The problem is the booklet for the set, because it needs 48 pages to explain everything about the recordings. But I don't have enough time to write such a large amount of notes.

Gallo: What is the oldest tape in the set? And when was it recorded?

FZ: Well, the oldest one in the set was recorded in '58 with Captain Beefheart, although it was long before he started calling himself Captain Beefheart. I recorded him singing in a classroom of a school.

Gallo: And what else?

FZ: The set also includes recordings from the first ever rehearsal of the Mothers, and the first live tapes of the Mothers at a bar in Pomona and our performance at a party in Hollywood, which caught the eye of our first manager. Every track has some historical significance, and there're very unique live perforamnces in it, since that kind of moments happened only once and will never happen again. For example, when we were recording the Uncle Meat album, cops broke into our studio and pecked at us. Their voices were also recorded on the tapes. But our record company (Warner Bros.) is afraid to release this set. We'd like to release it with a list price of $50, but probably we'd have to discount the publishing rate.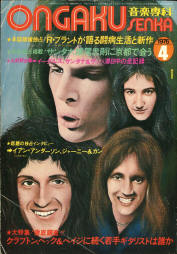 Special Report Part III: Frank Zappa

I'd Prefer Sleeping to Taking Part in the Contemporary Art Exhibitions
Dy Yagi Yasuo, Hirata Yoshiko, Yoshinari Nobuyuki and Ongaku Senka, pp 160-162

Zappa Stole the Show - Even in the Oiran Dances
By Yamaura Masahiko, pp 162-164

---
TAN Mitsugu:
This issue has a 5-page report on FZ in Japan. The first part is an interview with FZ, while the second part is a journal by Yamaura Masahiko, who accompanied the Japanese tour as an A&R man from Warner Pioneer.

Some quotes from the interview:

Q: At the press conference, you mentioned some of your favorite monster movies from Japan. At the same time, you can see monsters appearing in the U.S. films and comic strips. What's the difference between the Japanese ones and the American ones?

Zappa: The Japanese ones are made more carefully in detail.

Q: Did you watch them in TV?

Zappa: Yes, via TV, in most cases. For example, the superman with a sunglass... What's the title of that?

Q: "Ultraman"?

Zappa: Right, that's the one. I know many others, too.

Q: What do you think of John Cage?

Zappa: I like his thinking and philosophy, but his music is, well, not my cup of tea.

Q: How about Holst?

Zappa: I like his music very much. I forgot the title, but one of his overtures is really great. I like most of his works. The only exception is The Planets, because it is a hit tune for him.

Q: How about Ono Yoko?

Zappa: Same as Cage.

Q: Do you sometimes take part in contemorary music concerts in the U.S.?

Zappa: No. As I don't have much time to go to bed, I have no time to waste on that kind of thing. Which do you prefer between sleeping and taking part in contemporary art?

Q: Sleeping.

Zappa: Those contemporary arts don't look interesting to me. And they don't look necessary for me. "Babies grow up in their sleep", right?

Q: What do you think of Andy Warhol?

Zappa: I like one of the Campbell's soup cans he drew. Just one of them. From that point on, he started to get on the downgrade. I prefer his singing to his thinking.

One time, when he'd just recovered from gunshot wounds, he dropped by at Whisky A Go Go. That night, Iggy Stoogie was on the stage, and dripped candle wax on to the stitches on Warhol's belly. Then suddenly, Warhol started laughing. He laughed so hard that the stitches got open again, and he had to be carried into a hospital again. If you're in stitches getting candle wax dripped by Iggy, you'd better see a doctor.

Q: How long did it take to finish the title track of Apostrophe(')?

Zappa: First of all, the session of the basic track started from one o'clock at night, and it finished at seven in the morning. It took approximately forty hours to complete that track.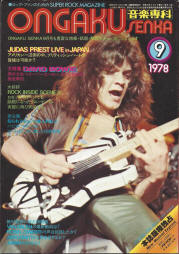 1978 September
Who is Frank Zappa?
By Wayne Manor, p 24

---
TAN Mitsugu:
Short FZ interview. (It might be an excerpt from Manor's interview that appeared on NME, July 22, 1978) The interview was conducted in a hotel room. Gail was present, saying "Please don't call me Mrs. Zappa. Call me Gail, because "Mrs. Zappa" is always used for his mother."

Since the English-Japanese translation is not very good, you can't fully understand some of the text. Anyway, I try to translate some FZ quotes (skipping the uncertain parts):

"Now I'm making a movie called Baby Snakes, which features a lot of celebrities. Everybody has a baby snake, and they have space, too. These two things are related each other."

"Humans are not almighty. It's just each person has a different ability. Sometimes I go to a bar and discover a musician. Adrian Belew, our rhythm guitar player, was found at a bar in Nashville. I asked his name, taking a note of his address, and a year later called him up and said "Come over to the audition". Everytime a new guy comes in, he's going to learn a lot of thing. My band is probably the best music school in the US. They're getting better while they're playing in this band."

"I have a brother who is selling textbooks. Another brother of mine is working at home. My sister was married but soon divorced, and then married again with a guy who used to be a basket ball player."
Source: slime.oofytv.set