Nuggets
It's a Nugget if you Dig It! A music magazine from Birmingham, which started in April 1976. Co-founded by Mike Davies, Dave Seal, Dave Johnson and Duncan McWilliam. In total 12 issues published until 1978.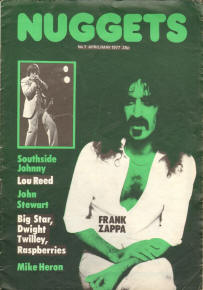 1977 April/May
No. 7
Zappa On Air
An exclusive transcript of an American radio programme in which Francis Vincent Zappa discourses about the CIA, youth, drugs and his idea of a woman..., pp 16-19
---
INTRO: And so we enter the unknown with Suzy Creamcheese. This is going to be a reckless hour with one of the fathers of American freak-rocker, make that one of the Mothers of freak-rock. Join me for an Inner-View of one of the most creative mothers of rock n roll, Frank Zappa.
JL: How many albums has Frank Zappa and/or any combination of the Mothers put out to date?
FZ: About 22. (read more)